Exclusive
Former Middleweight Boxing Champ Charged With Theft Over $25 Cab Fee, Warrant Issued For His Arrest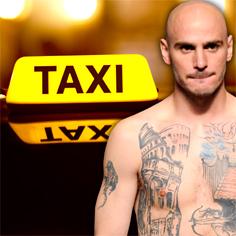 Retired middleweight boxing champion Kelly Pavlik was charged with theft on Wednesday after stiffing a cab driver a $25 fare and after failing to appear in court on Friday, an arrest warrant has been issued, RadarOnline.com is reporting.
Pavlik was reportedly out drinking at Billy's Bar in his hometown of Youngstown, Ohio, when he called a cab to take him home around 3 a.m.
After failing to pay the taxi driver, the cabbie called 911 and reported the missing $25 fare to the Mahoning County Sheriff's Office. Pavlik reportedly got out of the cab and cursed at the driver saying, "I'm not paying. You go f**k yourself."
Article continues below advertisement
According to WKBN 27, Pavlik's attorney, Damian Billak, asked for a continuance until Tuesday because he's been unable to reach his client, but the request was denied.
The 31-year-old has battled alcohol abuse problems in the past and an insider exclusively tells RadarOnline.com he's been drinking heavily since his retirement in January.
"His drinking is out of control," the source said.
"I'll give him credit for not drinking and driving and taking a cab home from the bar, but the drinking is the root of his problems."
In January 2010 Pavlik spent 20 days at the Betty Ford Clinic and after relapsing, went back in September for a 60-day stint — but was arrested in 2011 for a DUI in Canfield, Ohio, while driving an ATV.
"I would go out and no one would care what I was drinking," Pavlik told SportsIllustrated.com in 2011. "They were buying the drinks. After that, it became a habit."
Stay with RadarOnline.com as the story develops…