She Oughta Know...Better! Alanis Morissette Sued By Former Nanny For $100K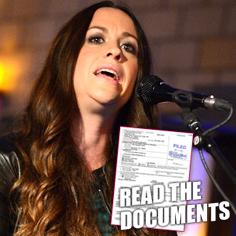 She oughta know! Alanis Morissette and husband Mario Treadway have been sued by their former nanny, Bianca Cambeiro, over allegations she wasn't paid overtime or provided with rest breaks, RadarOnline.com is reporting.
According to the lawsuit, filed in Los Angeles on Thursday, the nanny was hired to work for Morissette in 2011 to care for her son Ever Imre Morissette-Treadway, born in 2010.
Article continues below advertisement
Cambeiro was the night nurse for the couple, and worked 9:00 pm until 9:00 am, three to four days a week, at $25 per hour.
The former employee contends she was never paid overtime and was denied rest and meal breaks daily, and also traveled with Morissette on tour and worked seven days in a row on seven different occasions.
Furthermore, the nanny was told Morissette's son was never to be left alone while the child was sleeping, unless one of the parents were present, or the day nanny arrived to relieve Cambeiro.
In January 2012, the nannies asked Morissette's accountant why they weren't being paid overtime, and were told, "We don't do that."
Cambriero worked as the Grammy award-winning singer's nanny until March 2013, and doesn't specify if she quit or was fired.
The lawsuit seeks $100,000 in damages and $30,000 in unpaid wages.