Sofia Vergara – Breast Emmy Entourage Ever (Excluding Her Fiancé)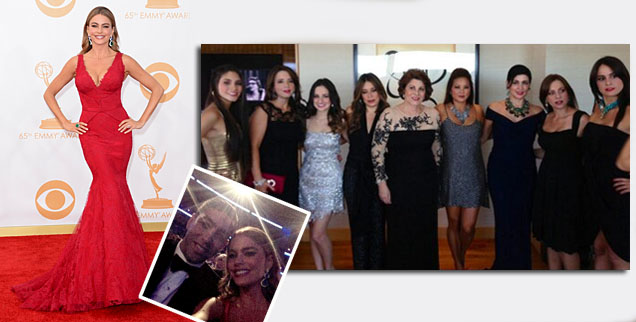 Sofia Vergara turned up at the Emmys with a lot of support on Sunday – including her Vera Wang dress and her family but NOT her fiancé.
The Modern Family star was joined by her partner Nick Loeb but, tellingly, during an interview with E!'s Giuliana Rancic, she referred to him as her "boyfriend."
Chatting to the TV presenter the 41-year-old gushed about the family and friends in her entourage.
After looking back on to the crowded red carpet, Sofia said: "I have 20 Colombians with me and I'm scared that they're going to go crazy getting their pictures taken with all of the stars and then I'm going to lose them."
Article continues below advertisement
When asked who was in the entourage, the actress said: They're all my family – my family, my son, my boyfriend and my best friend. Everybody."
Sofia and Nick are rumored to be going through a rough patch after apparently having a public spat recently.
But the actress was all smiles on the red carpet and laughed as Giuliana joked about her dress keeping her famous curves in check.
The TV host told the audience at home about the busty star: "Her dress has the hardest job on the red carpet – keeping all of this sexiness inside."
Sofia agreed saying that the Vera Wang dress was "doing a very hard job."
However she did admit that she is not sexy around the clock, saying: "I can sleep naked but I cannot sleep without socks. I put them on at the end of the night when no one is looking."