Exclusive
President Obama In The Doghouse With PETA For Not Adopting New Pooch From A Shelter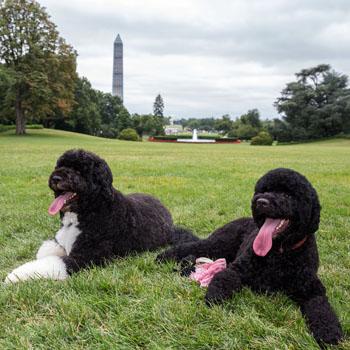 President Barack Obama can't seem to catch a break.
From a looming government shutdown and foreign aid to Egypt, the President is being criticized by PETA for not adopting the newest member of their family — one-year-old Portugese Water Dog, Sunny — from a shelter.
In an exclusive statement to RadarOnline.com, PETA President Ingrid Newkirk says, "The President seems to be in the doghouse again. Just one day after The Washington Post revealed that the dog and cat overpopulation crisis is so severe that the Washington Humane Society is stacking cats in cages in the hallways and cramming too many dogs into kennel runs, the Obama family apparently failed to listen to the plea of "adopt, don't buy" that greeted the arrival of the First Dog, Bo, and acquired Sunny, the Second Dog, from a breeder, which is the animal-protection world equivalent of kicking a hobo."
Article continues below advertisement
"Mr. Obama says that Malia's allergies require getting a dog who doesn't shed—and there they are, sitting homeless on Petfinder.com: every breed and mix of non-shedding dog, from poodles to water spaniels. Every one of these cast-offs would have loved to curl up under the desk in the Oval Office," the statement continued.
"The family's donation to the shelter is very nice, but money can't buy homes or erase a bad example. However,it's not too late—the White House is big enough for three lovely dogs, the third one a true rescue. Come on, Mr. President, one more time—and this time, do it right. Set a good example and save a homeless animal's life."
The Obamas donated an undisclosed amount to the Washington Humane Society in Sunny's name.
According to the White House website, "Sunny was born in Michigan in June 2012, and arrived at the White House today. Just like Bo, she's a Portuguese Water Dog, which works great for the Obamas because of allergies in their family."
Michelle Obama posted a snapshot of the adorable pooch with the caption, "So excited to introduce the newest member of the Obama family—our puppy, Sunny!"
Last year, the First Lady told reporters, "Bo doesn't have enough dog interaction."
The Humane Society of the United States estimates that 3-4 million dogs are euthanized yearly.