Exclusive
Move Over Sharon Osbourne & Julie Chen! Marie Osmond Wants A Permanent Seat On 'The Talk'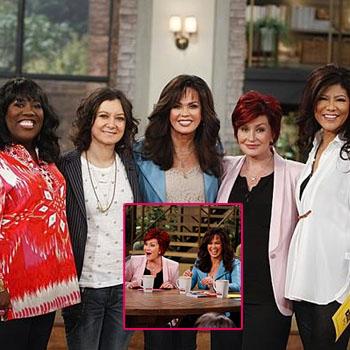 The Talk table is about to get crowded if Marie Osmond has anything to say about it, RadarOnline.com has learned exclusively.
While Marie has been a regular fill-in guest co-host for Sharon Osbourne and moderator Julie Chen, she'd like nothing better for producers to add a sixth chair to the lineup, says the source.
"The producers love Marie, she loves doing the show and viewers can't get enough of her," an insider on the set told RadarOnline. "She really shines when she's being herself in a talk show setting and her fan base has let CBS know that they enjoy seeing her on a daily basis. Marie has made herself available whenever they need her, but she's also made it perfectly clear that she would love it if they added her as a permanent host."
Article continues below advertisement
Osmond's own talk show, Marie, on the family-oriented Hallmark Channel network was cancelled in July after it failed to garner an audience.
The Talk's five-woman panel, which was created by former Roseanne child actress Sara Gilbert, one of the co-hosts, stars Osbourne and Chen as well as comedic actresses Aisha Taylor and Sheryl Underwood.
The series, which premiered in 2010, made headlines when it fired two of its original hosts, Leah Remini and Holly Robinson Peete, in 2011.
In 2012 Remini told her Twitter followers that Osbourne was behind the firing, writing:
"Ask Sharon. She had us fired. Sharon thought me and Holly were "Ghetto", (her words) we were not funny, awkward and didn't know ourselves."
Osbourne fired back: "Leah knows that I have never been in the position to hire or fire anyone on the show."
Meanwhile, some of Osmond's fans have also taken to social media to post some pro-Marie comments at the expense of regulars Aisha Tyler and Sheryl Underwood.
Article continues below advertisement
Fan Deirdre Wilson Welborn posted, "I'm loving Marie Osmond filling in!! I say dump Aisha Tyler and keep Marie!!"
And Susan Levinsky Wilber chimed in, writing: "I agree DUMP Sheryl !!!!! love all the others and Marie is a gift to the show."
According to the insider, producers are happy with the current line up and have no plans on bringing a new host on, but Marie has definitely been their "favorite guest co-host so far."
"If one of the women left the show Marie would be a shoo-in for the position," adds the source.