'SHAPE' Covergirl Maria Sharapova Withdraws From U.S. Open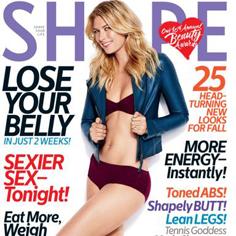 Tennis great Maria Sharapova, who's covering the current edition of SHAPE magazine, has withdrawn from this year's U.S. Open due to an injury to her right shoulder, RadarOnline.com has learned.
Sharapova, a four-time major champion, said on Facebook Wednesday that her choice to bow out was "a really tough decision to make.
"I have done everything I could since Wimbledon to get myself ready but it just wasn't enough time," she wrote. "I have done many tests, received several opinions and it all comes down to taking the proper amount of time to heal my shoulder injury properly."
Article continues below advertisement
The Russian beauty, who has had problems with said shoulder in the past, has also dealt with hip maladies as of late.
Check out the September issue of SHAPE magazine for an interview with the tennis star, where she talks about her on-court battles, her line of candies, Sugarpova, and her new collection of accessories.