Rapper Machine Gun Kelly In Sex Romp With Porn Star During LIVE Performance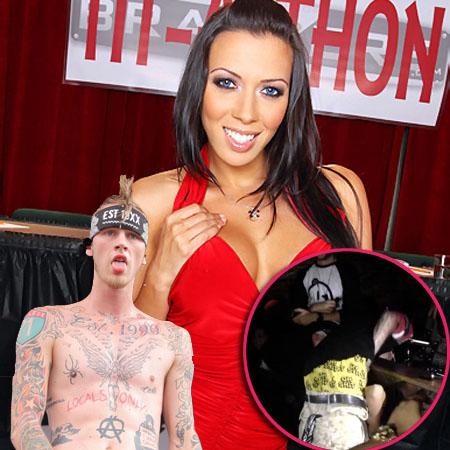 Rapper Machine Gun Kelly was performing in Dallas on Friday when his sometime girlfriend, adult actress Rachel Starr, pulled down his pants and performed oral sex on the 23-year-old Cleveland native, RadarOnline.com has learned.
The X-rated incident at the Monroe Lounge was captured on video but is too raunchy to publish on this site!
It shows MGK with his shorts unbuttoned, boxer shorts exposed, as Starr cavorted on him. The incident took place in full view of stunned fans who quickly pulled out their cell phones to capture the outrageous and steamy moment.
Article continues below advertisement
Wild child Starr later confirmed it was her performing the act on the emerging artist, also known as Richard Colson Baker.
"If only they saw what happened in Dallas last night! LMFAO," the adult star wrote on Twitter, before responding to MGK who declared, in a separate post: "I'm actually pretty tame these days."
Starr retorted, "I beg to differ! Maybe i'm just showing you how fun it is to break the rules again!"
The incident is not out of the box for the pair: In a previous interview, the two-time mtvU Woodie Award winner admitted once having a threesome with Starr and another women, all while recorded on video -- again!
"We made a flick too," MGK said in a radio interview. "We did a threesome, too. Some randomly, come over here. This was in Texas. It was just a crazy day. In front of everyone. We have got multiple videos."