Exclusive
Lawyer Suing Lisa Vanderpump Over Gay Bar Dispute SLAMS Real Housewife: You're A Liar & These Photos Prove It!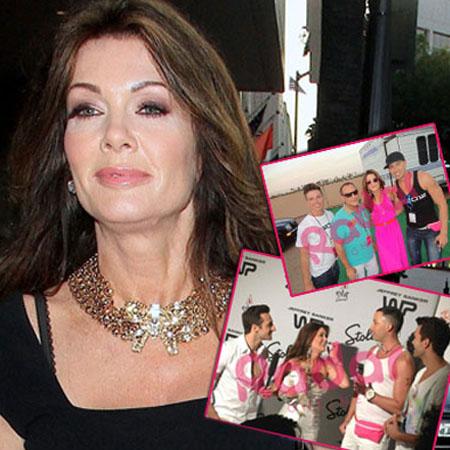 When RadarOnline broke the story that Real Housewives of Beverly Hills star Lisa Vanderpump and her husband Ken Todd were being sued in an attempt to halt construction of their new venue in West Hollywood, Calif., the reality television couple was quick to issue a statement in an attempt to absolve themselves of responsibility.
"We had no prior knowledge of Ryan Carillo and Andrew Gruver or their claim," Vanderpump said in reference to the two businessmen who filed a multi-million dollar suit against them.
Article continues below advertisement
In court papers, Carrillo and Gruver claimed they had a deal to partner with another businessman, Elie Samaha, to open a gay sports bar and restaurant called Bar Varsity on the site of the shuttered Java Detour, which is owned by Samaha and his brother.
But the deal went sour, when, according to the businessmen, Vanderpump and Todd entered into agreement and "intended to disrupt the performance of the (existing) agreement."
In response, Vanderpump has said: "We took the lease in good faith seven months ago and all of our applications and notices have been posted publicly. Any issue will be between them and the property owner."
"That statement as it pertains to the alleged lack of Ms. Vanderpump's 'prior knowledge of Ryan Carillo and Andrew Gruver' is false and misleading," Carrillo and Gruver's lawyer, Joe Adams, Esq., told RadarOnline.com exclusively.
MORE ON:
Celebrity Justice
Article continues below advertisement
"The underlying fact is that Ms. Vanderpump has had extensive 'prior knowledge' of Mr. Carillo and Mr. Gruver prior to their filing of the above-referenced legal claim."
He said Gruver had event hosted events at Vanderpump's other venue, Sur Restaurant, in the past and has had a direct relationship with the Bravolebrity.
"Ms. Vanderpump's has indeed had 'prior knowledge' of Mr. Carillo as well, as evidenced by numerous photos and videos recorded at events in which Ms. Vandperpump and Mr. Carillo have extensively interacted," Adams added.
Carillo and Gruver are seeking millions in damages including compensatory damages from Vanderpump and Todd and and emergency temporary restraining order and preliminary injunction from "demolishing, remodeling the Java Detour Location as P.U.M.P Lounge, or opening and operating the Java Detour Location as P.U.M.P. Lounge or any other entity other than Bar Varsity."