Exclusive
Lindsay Lohan's Secret Rehab Diaries: 'It's A Treasure Trove Of Her Private Thoughts,' Says Pal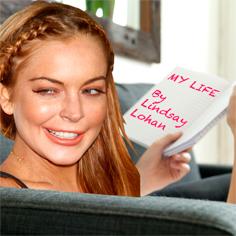 During Lindsay Lohan's 90-day court-ordered rehab stint RadarOnline.com has exclusively learned the troubled actress kept a secret rehab diary that she wrote in every single day.
A source who attended the Cliffside Malibu treatment center with Lindsay claims the Mean Girls actress consistently kept a confidential notebook and pen with her everywhere she went in the rehab clinic and would incessantly write in it — even during group therapy sessions.
Article continues below advertisement
"Lindsay was so obsessed with writing in her journal that she would do it any place, any time," the insider told Radar.
"She scribbled in her diary a lot during the group sessions, which angered the other patients. Here everybody is trying to open up and be vulnerable, and she's not even paying attention, so a lot of the other patients were pretty pissed with her about that."
According to the source,
Lindsay, 27, is known for keeping secret diaries — dating back to 2007.
When she was dating DJ Samantha Ronson, Star magazine reported on lesbian love letters sent between the two while Lilo was at Promises rehab center in Malibu.
"Babe, if I don't have you in my life then I should just go die," Lindsay wrote to Sam.
"Your sic all I have to live for, babe. I want to marry you and have children with you. I need you to live!"
Article continues below advertisement
While serving jail time in 2010 at the Century Regional Detention Facility in Lynwood, Calif., the National Enquirer learned the actress kept a detailed diary of her time behind bars.
And it was Lindsay's long lost diary that secretly revealed she was dating Heath Ledger — who she called "the love of my life" -- before his death, Star reported in 2011.
Reports from the Enquirer claim Lindsay has been keeping private diaries since she was just 8-years-old.
"It's a treasure trove of her private thoughts," the rehab source told Radar of Lilo's diary.
"If anyone were to get their hands on her diary from rehab I'm sure there'd be some pretty crazy stuff in there! I asked her one time what she writes about in there and she said, 'Everything.'"