Exclusive
Firing Back: Lindsay Lohan's Dad Slams Rapper For 'Rich Ass White Girl' Diss -- 'What Can You Say To A Moron?'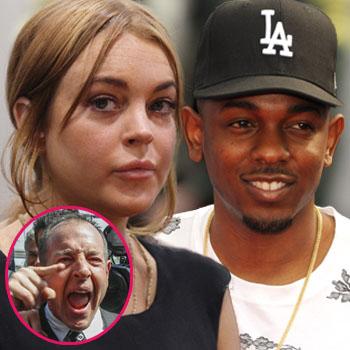 The Biggie Smalls/Tupac rap war is going to pale in comparison to the wrath Kendrick Lamar is going to feel from Lindsay Lohan's father, who slammed the rapper for his disrespectful lyrics about his daughter exclusively to RadarOnline.com.
Kendrick's vicious lyrics about Michael Lohan's daughter are on Big Sean's new track Control, and they aren't very nice to the recently rehabbed star.
"Mollies'll prolly turn these n****s to f***in' Lindsay Lohan / A bunch of rich ass white girls lookin' for parties/ Playin with Barbies, wreck the Porsche before you give 'em the car key," are the lyrics, which basically is Kendrick saying that guys partying and are taking things for granted like Lindsay Lohan did when she wrecked a Porsche on PCH.
Article continues below advertisement
Kendrick earned the wrath of Michael Lohan, who dismissed him, asking: "Who cares? He's an idiot."
Papa Lohan said Kendric is "senseless. What can you say to a moron?"
Unaware of the rapper's reputation, Michael said: "I don't know who this guy is. I 've never heard of him. That says enough about what his opinion is."
Michael took another shot at Kendrick, saying: "He wishes he was in as good of a place as Lindsay."