Exclusive
Chaka Khan Wasn't The Only One Who Left Rehab Because Of 'Mean Girl' Lindsay Lohan -- 6 Other People Quit Cliffside Because Of LiLo's 'Diva Behavior'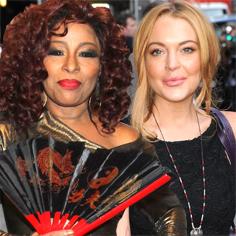 Legendary singer Chaka Khan wasn't the only one who had enough of Lindsay Lohan's diva behavior while at Cliffside Malibu rehab center -- RadarOnline.com has exclusively learned that more than five people who were receiving treatment left the clinic early because of the troubled actress.
According to the insider, who was at Cliffside with Lindsay, five girls and one guy left at some point after Lindsay arrived because they didn't want to cater to her demanding ways while they were trying to work on themselves.
Article continues below advertisement
"Lindsay mostly clashed with the girls in the rehab because she always needed so much attention and acted like a spoiled brat," the insider told RadarOnline.com.
"A lot of the girls left or transferred out to another facility because Lindsay was just too distracting. They felt like she was really b*tchy and entitled. They just couldn't take her sh*t."
The insider says Lindsay would do things to specifically get on their nerves and to showcase her "power" within the rehab center.
"Lindsay knew how to push all their buttons and I think she enjoyed making the other girls uncomfortable," the source told RadarOnline.com.
"She definitely exercised her star power."
As RadarOnline.com exclusively reported earlier this month, Chaka Khan found Lilo's behavior disruptive while seeking treatment for the use of prescription pills at Cliffside and ultimately left the program early.
"To choose to do what is necessary to better one's self is commendable," Chaka said in a statement the next day.
"I applaud Lindsay Lohan for doing the work. She is a lovely young lady and I pray for her well-being."