Twice The Fun! Kim Zolciak Is Having Twins!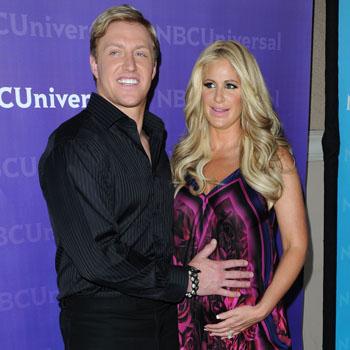 Watch out Kate Gosselin, Kim Zolciak is gaining on you! The Real Housewives of Atlanta star revealed that she is pregnant with twins – who will be her fifth and six children.
Rivaling Brad and Angelina for a large brood, the reality TV star announced her happy baby news on Monday, saying that she's having double the fun this time.
"I'm having twins and I couldn't be more excited. I was completely shocked. I had no idea. It was a natural conception, but twins do run in the family, so I guess I shouldn't have been surprised," Kim told E! News.
Article continues below advertisement
Kim, 35, and her husband Kroy Biermann already have two baby boys, Kash and Kroy Jr., and she has two daughters, Brielle and Ariana, from a previous relationship.
"I can't believe I am going to be a mom to six children," Kim said her expectant bundles of joy.
Kim has been caught smoking a cigarette twice since she announced her pregnancy, once outside her home and once on the beach smoking a cigarette.
She said that having the twins is something she's always wanted.
"It's going to be very busy but it's a dream come true."