Jane Lynch Divorce: Estranged Wife Wants Spousal Support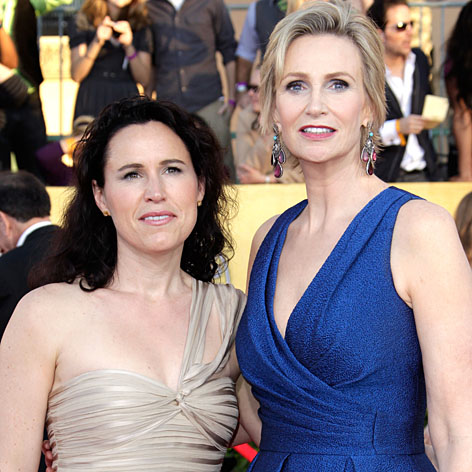 When Jane Lynch filed for divorce last month she said she and Dr. Lara Embry  were just "two people who just decided it's better to go apart than stay together" and implied their split would be the most amicable ever.
That changed on Friday when Embry filed her response to Lynch's petition and asked the court to award her spousal support and to require the Glee star pay her attorney fees.
According to her petition, Lynch didn't want to do either.
Article continues below advertisement
Their lawyers will now start battling over the big bucks Lynch has been making on Glee, her recent Broadway stint in Annie, her hosting gig on NBC's Hollywood Game Night and several endorsement deals.
The actress and the psychologist wed in Massachusetts in 2010 during a time when same sex unions weren't legal in California; they filed for domestic partnership status in the Golden State at the same time.
With same sex marriages again legal in CA, Lynch filed for divorce in her home state.
Now millions of legal and show business eyes will now be on the case as it becomes the highest profile same sex split in the country.