Medical Mystery: 'Here Comes Honey Boo Boo' Dad Sugar Bear Battling Unnamed Brain Disorder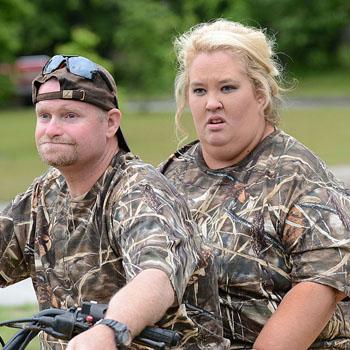 Redneck Games, fart jokes and cheese ball binges are the usual topics of TLC's fun and fabulous reality show Here Comes Honey Boo Boo.
But behind the scenes, a far more serious storyline is playing out: Pageant princess Honey Boo Boo's (real name Alana Thompson) father, Mike "Sugar Bear" Thompson has spent the summer battling an unnamed illness that is affecting his brain.
This morning, Alana's mother, June Shannon, revealed on Facebook that she is currently holed up in a hotel in Jacksonville, Fla. after Sugar Bear underwent neurological testing at the nearby Mayo Clinic.
Article continues below advertisement
"Have to go back for more tests today and we will b here all week to run tests and more appts to get the right diagnosis and treatment sugar bear needs so will update more later," she wrote.
"Hes sic havin spells where he passes out & we dont sic know the cause & meds aren't helpin … we r all nervous to c what will b done with everything will update when we hear something #nervous and #hoping for the best…"
The medical drama began back in May, when Sugar Bear was first admitted to the hospital after a fainting spell. "Everyone plz pray," June tweeted on May 24. "sugar bear he was rushed to hospital after having a dizzy spell & passing out they r running test will update soon."
June wrote the next day, "Update he was admitted they r running test of his brain dont sic really want to say what they think it is until we know final answers thanks."
Article continues below advertisement
But when they did get a diagnosis, it was not positive. She wrote on June 24, "Well we went to the doctor not a good report :( we will b headed to Jacksonville Florida in a few wks to get more results and c what the long term plan will b for sugarbear like I said I'm sorry right now don't want to share the diagnosis until we get all the information like we said b4 he is being and acting normal unless he has a episode…."
Sugar Bear has unfortunately spent a lot of time in the hospital over the past year. In September, he was treated for a foot infection sustained in a mud bogging incident. Near Christmas, he was rushed to the hospital after becoming sick during the family's holiday toy drive. He was then hospitalized in February for pancreatitis.