Google This! Love Quadrangle Rocks Tech Company As Top Exec Hugo Barra & Married Co-Founder Sergey Brin Both Allegedly Involved With Same Co-Worker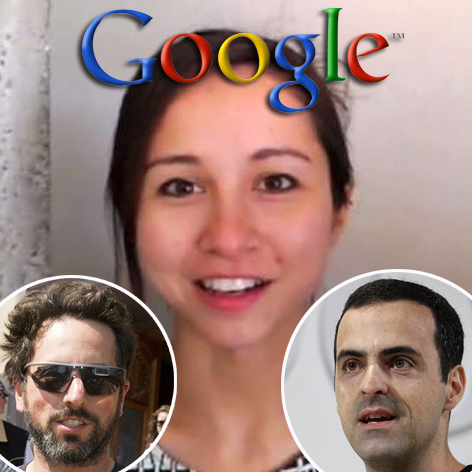 Amanda Rosenberg has become one of the most searched names on the Internet.  Amanda who?  She's the Google marketing whiz who reportedly had affairs with both Hugo Barra, one of the company's top execs, and Sergey Brin, Google's billionaire cofounder, at the same time!
Barra has now left the Internet giant for a new job in China, and Brin and his wife, Anne Wojcicki - founder of the biotech company 23andMe, in which Google has a substantial investment -- have separated.
Article continues below advertisement
The tech website, All Things D  broke both stories but without naming Rosenberg as the rumored woman-in-the-middle.
That all changed when the ValleyWag published Rosenberg as Brin's "mistress."
Helping to make this the juiciest story ever to come out of Silicon Valley, several other techie sites also noticed that the author of the All Things D story has a close relationship with Brin's wife, and suggested that it was none other than Wojcicki herself who leaked the story!
And just who is Amanda Rosenberg?  She calls herself a "Chew," a Chinese Jew, with a British father and a mother from Hong Kong, reports the Daily Mail.  She went to the same school as Kate Middleton and moved to California just last year to promote Google Glass.
"Every fellow Googler knows she slept with not one but two bosses within the same 8 months," Audrey Winters posted in a message on Rosenberg's Google page, noted the New York Post.
Article continues below advertisement
Google doesn't ban but does discourage inter-office romances.
Employees contemplating such a relationship should ask themselves "Would this activity embarrass Google or me if it showed up on the front page of a newspaper or blog? If the answer to any of these questions is 'yes,' the relationship or situation is likely to create a conflict of interest and you should avoid it.'
A Google spokesman has confirmed that Brin and Wojcicki, who have two children, have split and that Barra has left the company.
None of the parties have agreed to comment on the storm of controversy caused by their reported relationships.