Exclusive
Farrah Abraham Slams Amazon Wish List Haters -- Joke Is On Them, She Was Bought Everything She Asked For!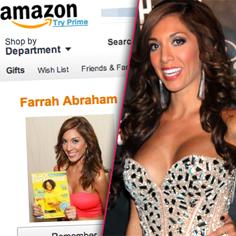 Article continues below advertisement
"You know what? I think if they are so hateful towards having an Amazon wish list, I recommend that they maybe make their own wish list," she said.
"It's just something fun like having any other app for whatever list you would like to create, like Pinterests that you have."
And the joke is on her haters, because as of August 23, everything on Farrah's list has been purchased for her!
"So I mean everyone has their own money, everyone strives to buy their own things, but I'm fortunate I guess because I receive amazing gifts all the time from people," Farrah continued. "So I think any negative comments can be kept to themselves."
Farrah claims her fans were obsessed with the Amazon list and she was urged to create her own.
"Everybody is obsessed with like trying the Amazon list," Farrah, who made a special appearance at Crazy Horse III in Las Vegas on Aug. 20, said in an interview. "One of my girlfriends has it on hers. She's like, 'Yeah I know you receive gifts all the time, but you should like maybe be more in charge of what you get.'"
That's when Farrah created her own wish list. "And so I was like, 'Oh, Okay,'" Farrah said. "This is actually fun because you then start like clicking on everything on the internet that you like, and then you get a huge list."
But many of Farrah's online followers didn't see it the same way Farrah did and have actually slammed theTeen Mom for setting up the wish list in the first place.
"I hope they make their own list," Farrah said. "I think it's just like fun to have it there."