Exclusive
'16 And Pregnant' Star Nikkole Paulun Reveals The Tragic Story Of Her Miscarriage And Delivering Her Stillborn Son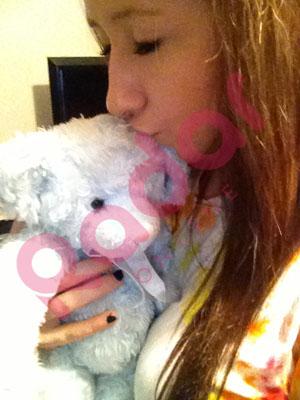 On July 28, 16 And Pregnant star Nikkole Paulun learned some very tragic news: the baby growing inside of her did not have a heartbeat.
"Everything was going okay and last month, my doctor told me that if everything was okay, I could deliver on Aug. 25, which was a week before my due date," Nikkole tells Radar in an exclusive interview.
"But then on July 27, I felt really weird all day and I kept telling my mom something didn't feel right."
Article continues below advertisement
Nikkole went to the hospital the next day to find out what was going on.
"I thought it would make me feel better," she says.
That's when she found out that something was terribly wrong with her baby.
"We saw a doctor to try and find the heartbeat and they couldn't find it," she says.
"But I thought I still felt him moving, so they took me for an ultrasound and they weren't letting me look at it when they did it."
Nikkole continues, "She got up to get something else, so I knew something was wrong."
After several doctors checked the ultrasound, that's when they told her that her baby had died.
"They just told me, 'We're sorry. He doesn't have a heartbeat. We're going to have to deliver to prevent infections and everything.'"
Nikkole got induced at 9:00 a.m. and delivered her stillborn son, who she had already named Ashton, at 6:35 p.m.
Article continues below advertisement
"I cried. I was like in shock," Nikkole remembers. "I just couldn't understand why and I was confused. I didn't think that was actually going to happen."
After delivering her son, Nikkole was so heartbroken that she decided not to find out what caused her son's death.
"They gave me the chance to get an autopsy, but I chose not to," she admits.
But doctors still did a test to make sure the baby didn't die due to drug use.
"When he was born, they took him and they drug tested him to make sure I didn't do drugs and kill him," Nikkole says. The drug tests came back negative.
Nikkole has kept the death of her baby a secret until now.
"I didn't want to tell anybody," Nikkole explains. "I fought so hard to keep him that I was just ashamed and embarrassed."
But she did tell her 3-year-old son Lyle that his little brother didn't make it.
Article continues below advertisement
"We just told him that he went to heaven," Nikkole says. "But he didn't really understand."
Because Nikkole didn't want to tell anyone, she opted not to have a funeral for Ashton and instead had him cremated.
"When I found out he was a boy, I bought a teddy bear and we had him sewed inside his teddy bear," she says. "And when I pray, I'll hold the teddy bear."
Today, Nikkole is still trying to cope with her loss.
"I'm just still confused and in shock," she says. "I did really love him."