'She Just Flew Off!' Woman Killed After Falling From Six Flags Over Texas Roller Coaster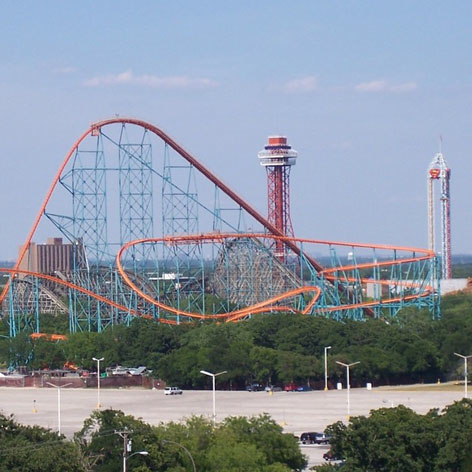 Hysterical fellow passengers witnessed a woman literally fly off a famous roller coaster at Six Flags Over Texas amusement park Friday night.
The victim, who has yet to be identified by authorities, was riding the Texas Giant with her children.
"We heard her screaming. We were, like, 'Did she just fall?'" witness Carmen Brown told the Dallas News.
Brown was next in line as the victim and someone she believed to be her son were loaded into their seats, and Brown said she expressed concerned that she was not correctly secured.
Article continues below advertisement
The park employee, said Brown, "told the woman 'As long as you heard it click, you're fine.' Hers was the only one that went down once, and she didn't feel safe. But they let her still get on the ride."
"Just witnessed someone fly off of the Texas giant two seats in front of me," another witness, Joshua Fleak posted on Twitter. "Coaster turned and she was gone."
Worse still, several witnesses saw and heard two young people screaming for their mom. "Let us out. We need to get to her," one of them cried.
And witness Kanisha Howell told the Dallas CBS station, "She fell out of the cart and just fell out of the sky."
The Texas Giant is the tallest steel-hybrid roller coaster in the world. It was immediately shut down after the accident, although it took some time for workers to locate the woman's body in the massive structure. The ride is closed pending an investigation.
In a statement, Six Flags spokesperson Sharon Parker said:
"We are deeply saddened to share that earlier this evening an adult woman died in the park while on the Texas Giant. Park medical staff and local paramedics responded immediately. Since the safety of our guests and employees is our number one priority, the ride has been closed pending further investigation. Our thoughts and prayers are with the family and friends during this difficult time."