Whoopi At War! After Tense Exchange With Barbara Walters She's Furious Over Charges She Went On Backstage Rant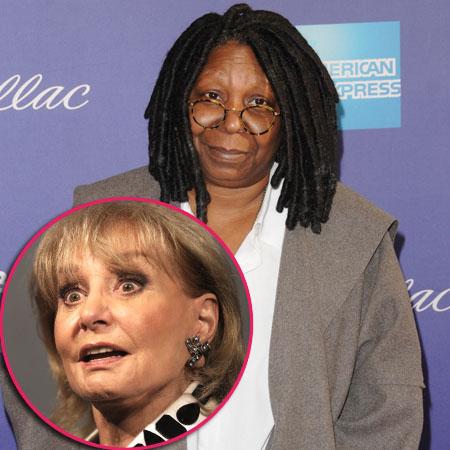 After a tense on-air exchange with Barbara Walters, Whoopi Goldberg is at war – but not with her long-time co-host of The View.
When Walters turned the talk to the Royal baby on Tuesday, Goldberg said, "I don't care."
Apparently all the hype surrounding William and Kate's new son, third in line to the British throne, simply doesn't interest Whoopi. But Barbara, 83, had a 20/20 special airing Tuesday night and wanted to promote it, telling the audience, "Whoopi will not be watching but we hope you will."
Article continues below advertisement
End of story? No, just the beginning.
Whoopi, 57, went on a seven-minute rant backstage over the events, according to the New York Daily News, which claimed she said: "I can't handle it anymore. I can't wait till she retires."
Sounds like juicy drama. Except Whoopi says it NEVER happened.
The News admits she told them: "I don't rant at The View for seven minutes for any reason. That would not have come out of my mouth, especially not at The View. I'm not stupid
"I don't see any reason you'd do this unless you are looking for a fight, and no one likes a fight."
Whoopi, known for being outspoken and telling the truth (even when it hurts), says she has a very good relationship with Walters, who hired her.
Considering her record of candor (yes she took Mel Gibson's side before he was charged in the case involving his baby mama), we've got to think the News has a battle on its hands here!
Let us know what you think in comments below.