Exclusive
Teen Mom Jenelle Evans Legal Woes Continue: Hubby To Be Released From Jail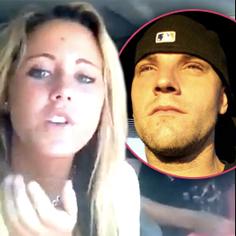 Jenelle Evans narrowly missed facing off with her estranged husband in court and RadarOnline.com has exclusively learned that her legal woes are far from over.
The troubled Teen Mom appeared in a North Carolina court on Thursday with MTV cameras rolling to face charges stemming from her arrest for felony possession of heroin and assault.
She missed running into her husband, Courtland Rogers, who appeared in the same courthouse just one day before and RadarOnline.com confirmed that he is going to be released from jail following his plea deal.
Article continues below advertisement
"Courtland has worked out a plea deal and he's going to get out of jail in the next day or so," a source close to the 27-year-old told RadarOnline.com.
"He was basically given his time served because he pleaded guilty to his charges and now he's going to get out."
Jenelle and Courtland are still legally married but they have both said that they plan to file for divorce as soon as possible.
They were arrested on April 23, 2013 after police were called to their house and found 12 bindles of heroin in their possession.
"My lifeeeeee is soooooo greaaaaat! PERFECTO!" she bragged on Twitter after the hearing.
Jenelle's court date was continued to August 12 where she must appear for both the heroin and assault charges.