Condoms & A Crocodile! The Most Bizarre Baby Gifts Sent To Prince William & Kate For George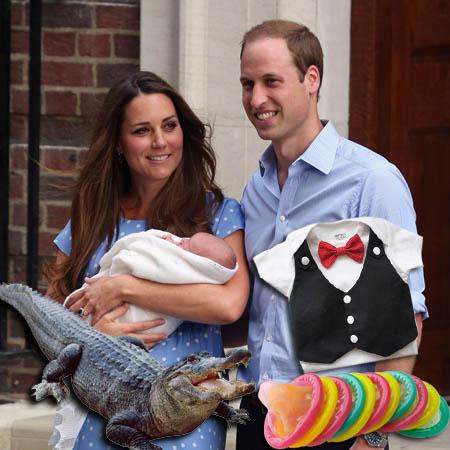 Sure, it's hard to know what to buy the baby who already has everything, including his own loyal subjects, but some gift-givers are getting a little too inventive!
That arrival of Prince William and Kate's son George has sent high level people, government officials, business owners and others into a tizzy trying to come up with the most dazzling gift of all
But little Prince George of Cambridge is likely to find a lot of these presents slightly impractical, including the most recent gift of a baby crocodile from officials in Australia's Northern Territory, where babies traditionally are raised with pet crocs (no, no, we're kidding about that part.)
Article continues below advertisement
The croc, named George, of course, will live with two other crocodiles named William and Kate. We're pretty sure this was intended as a friendly gesture.
Another less-than-practical item of the third-in-line to the throne is a pair of cufflinks that will be presented at his christening. (Who knew that onesies came with french cuffs?)
And Kela, the Social Insurance Institution of Finland, is giving George a head start in sex ed by sending condoms! The Fins sent a box filled with goodies -- including the condoms -- as part of their tradition to give all babies an equal start in the world. The box also included more practical items like clothes, bra pads (give those to mom, George), diaper cream and a towel. Even better the empty box becomes a bassinet. Practical even for a future king.
The Israelis struck a more formal note, sending George his own suit and tie and a supermarket where William and Kate have shopped clearly had a sub-par brainstorming session, resulting in giving George a parking space for mom and dad. (Gee,thanks.)
A shawl made from the fines wool in New Zealand is sure to elicit oohs and ahs before being shoved to the back of a royal closet where it will be piled next to a handcrafted blanket from Canada.
Oh, and at least some people were practical: George got lots of Teddy Bears!