'Shattered' Temper Tantrum Wife 'In Pieces' After Husband Posted 'Devastating' Video of Her Meltdown, Says Mom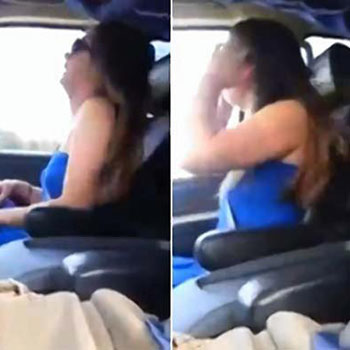 Jim Mongiat is not having a good week. After he filmed a secret video of his wife Whitney's epic meltdown and uploaded it to You Tube, his wife kicked him out and asked for a divorce.
Now, his mother-in-law is coming forward to slam his "devastating" behavior and reveal that her daughter Whitney is "in pieces" over the embarrassment.
Now that video of Whitney screaming and crying like a toddler has been seen by millions, she's pretty much destroyed, her mom, Beverly Jones says.
Article continues below advertisement
"How do you think she feels?" Jones told the Daily Mail, reportedly fighting back tears. "She had no idea she was being filmed or that the film would end up in the internet. Whitney is a good Christian girl. She has worked hard to get where she is, and then this happens to her. She is very upset. I'm very upset. It is devastating for all the family."
James has not been seen at the couple's shared home outside of Knoxville for a week, neighbors told the Daily Mail. He has reportedly moved in with friends nearby.
Though Jones has not seen the video, she said, "I have spoken to Whitney, and what is in that video is not my daughter. She is very upset. How do you think she feels with people looking at her.
James has claimed that Whitney's tantrums were an "ongoing thing,"