Justin Who? Selena Gomez Bans Bieber Questions As She Promotes Breakup Ballad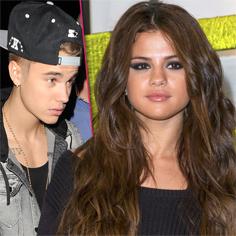 Article continues below advertisement
"The message was similar to the one the publicist had emailed the night before," he claims. "It was written with a declarative pay-attention-dummy urgency, the kind often favored by despots in fear of an uprising."
"The CIA might consider retaining the Selena Gomez PR machine for all future operations in dance zones," Menon says.
Selena's Bieber ban is all the more surprising considering that her new single, Love Will Remember, is reportedly about him. Opening with a sappy voicemail from a male that sounds suspiciously like Justin -- but, according to reports, is NOT -- the track "is the most personal track on the record, for sure," Gomez has said.
Watch the lyric video here:
youtube=https://www.youtube.com/watch?v=3mW7i3wTN1I&w=560&h=315
Do you think it's about Bieber? Let us know in the comments!