Ouch! Mariah Carey Shows Off Dislocated Shoulder In Sling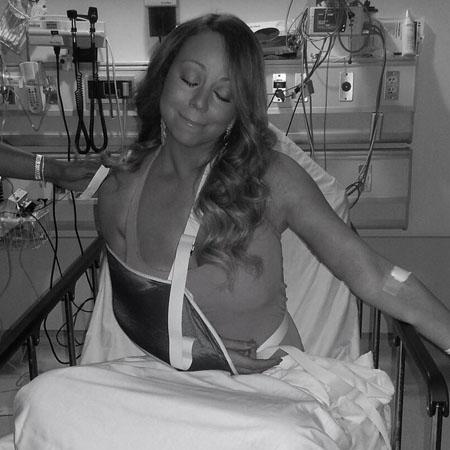 Even in the hospital with a sling on her arm Mariah Carey is divalicious!
Mimi shared a picture of her injury and explained what happened to land her in the hospital bruised but not broken.
"Dislocated my shoulder on the remix video with Jeezy, sporting a very fashionable sling for the next couple of weeks!" the 43-year old star Tweeted about the black and white picture where she's sitting in a hospital bed with a sling on her right shoulder.
Article continues below advertisement
Mariah was filming a remix version of her single #Beautiful with Young Jeezy at the Avenue nightclub in Chelsea when she fell over in her high heels while dancing and singing the NY Daily News reported.
DemBabies' Mama was reassuring her fans with the picture showing she's all in one piece and we're sure her wardrobe is going to perfectly compliment her new sling.