Lindsay Lohan 'Messed Up,' 'Scattered' & 'Bossy' From Adderall Use, Claims 'The Canyons' Screenwriter Bret Easton Ellis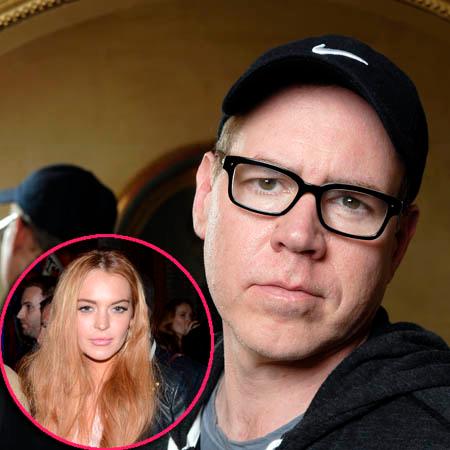 Welcome back to Hollywood, Lindsay!
It's been less than 24 hours since Lohan left rehab at Cliffside Malibu in California and she's already facing new criticism from one of her former co-workers, American Pyscho author Bret Easton Ellis, who wrote the screenplay for her new film, The Canyons.
In a frank interview with New York entertainment icon Michael Musto for Gawker, Ellis lays bare the experience of working with Lindsay: the good, the bad -- and the pill-popping.
Article continues below advertisement
"She's a very mixed up 20-something," Ellis told Musto, "but very knowledgeable about film and composition and lighting and hitting your mark. When she did our first table read, she blew me away."
But at first, he says, she lived up to her not-so-stellar reputation. "She was late, she was a little scattered," he reveals.
And at other times, her drug use affected her behavior on set. "She was sometimes bossy," Ellis admits. "I don't know if that's the Adderall. But I genuinely liked her!"
According to reports, Lindsay has been off of Adderall in rehab, but has expressed a desire to go on it again once leaving. Ellis has admitted to drug use himself, even tweeting his drug dealer for a cocaine delivery back in 2012.
Really, he says, Lindsay's just like any other young person trying to make it in Hollywood. "I don't see her as lost," he insists. "I know a lot of 20-somethings and they're all messed up. But when you're out in the public, you're magnified 100 percent, and I can understand how you'd go a little bit further. But she was ultimately very nice."
His partner on the movie, director Paul Schrader , doesn't exactly agree. He summed up the experience of working with Lindsay as "tantrums, absences, neediness, psychodrama," as RadarOnline.com reported.
The Canyons will be in theaters on Friday in New York and L.A., as well as on VOD and iTunes next week. Lindsay is also reportedly planning to attend the film's screening at the Venice Film Festival next month.