The Show Must Go On! Kim Kardashian Wanted To Film Her Farewell To Kris Humphries For TV, But He Nixed It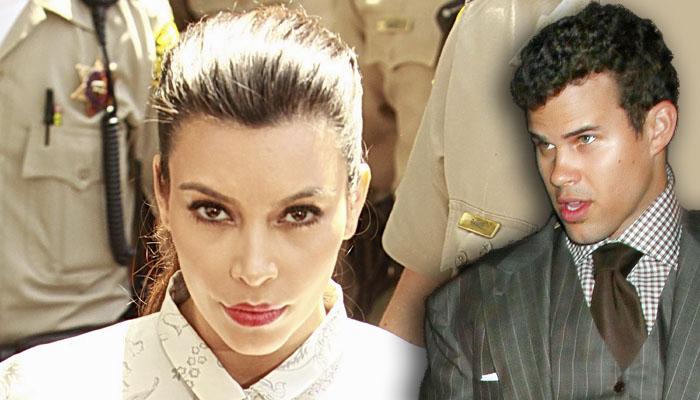 Even in divorce, Kim Kardashian knows a good publicity opportunity when she sees it.
Kim, 32, wanted to film a final farewell video chat with Kris Humphries, 28, but the NBA player turned down his former wife's request, RadarOnline.com is exclusively reporting.
On Sunday's episode of Keeping Up With The Kardashian, Kim told momager, Kris Jenner, and sister, Khloe, she wanted to have one final Skype chat with Kris, so she could apologize for how she handled certain aspects of their divorce. Kanye West's baby mama also wanted the Humphries to know she "truly did love him." (Humphries was unable to appear at their final divorce proceedings in court because of the NBA playoffs.)
Article continues below advertisement
But that's not the ENTIRE story, RadarOnline.com has learned!
Kim wanted cameras from her reality show to film the video chat! , But Humphries, "said no way. Kris turned down Kim's offer because he didn't want to appear on any of the Kardashian reality shows ever again. Kim and Kris haven't spoken since the divorce was made final, and there are no plans to do so," a source told RadarOnline.com.
During the episode, Kim also celebrates with high fives to family members when the divorce is finalized, something Humphries found to be insensitive. Even though Kris didn't watch it, "he heard about it from his friends," the source said. "On the day the divorce was finalized, Kris was somber and a bit sad. There was absolutely no celebration, or parties.
"It was the end of his marriage, and it was a reflective time for him. It didn't surprise him that Kim carried on the way she did on the show."
As previously reported, Kim, and mom, Kris Jenner, are planning to end the Kardashian reality shows in 2015, according to one article.
"It has been the biggest reality franchise of all-time. Both Kim and Kris want to make sure they end on a high note, leaving fans wanting more, rather than try and stretch the show on for another few seasons and watch it die a death," a source told Naughty But Nice Rob . "Plus, they are now moving on in their lives … exploring new options and opportunities.
"Kim wants to be with her daughter and Kanye, while Kris wants to focus on being a talk show host and maybe start producing movies. She's telling everyone that one day she will have an Oscar," the source said.
While the family inked a $40 million pact that would keep them on through 2015, the source notes that "they have all made so much money that they never need to work again.
"They want a break from the cameras — that shouldn't be too surprising," the source said.