Fireworks Indeed! Katy Perry & John Mayer Celebrate The 4th Together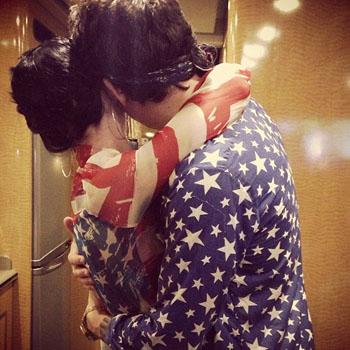 There are definitely fireworks in Katy Perry and John Mayer's relationship!
The happy couple celebrated the 4th of July together and Katy shared a picture of the two of them hugging in matching patriotic shirts together.
"Whose broad stripes and bright stars?!" Katy wrote on the picture she posted on Instagram where she is wearing an American flag shirt and his is blue with white stars.
The 28-year-old cheered him on as he performed at the Philly 4th of July Jam at Benjamin Franklin Parkway in Philadelphia, PA.
Article continues below advertisement
"She watched him perform off stage and watched every second of his performance, singing along to every song and dancing," a source told Usmagazine.com about their romantic night together.
"She was so into his performance and gave him a big hug and kiss when he finished afterwards."
"I still am madly in love with him," Perry confessed to Vogue about Mayer in an interview that was published in June, telling them that their relationship was over.
MORE ON:
Celebrity Romance
But they were spotted out together holding hands just weeks later and now Katy has confirmed the rumors -- they're definitely back on.