Exclusive
Where's Her Boyfriend?! Sexy Katherine Webb Solo On The Red Carpet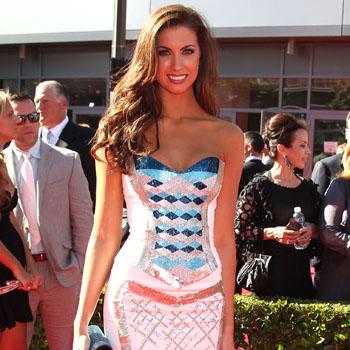 Poured into a tight sequined min and with her brunette locks cascading around her shoulders, Katherine Webb would have made any man thrilled to be on her arm as she strolled the red carpet at the 2013 ESPY Awards at the Nokia Theatre L.A. Live on Wednesday night. But she was alone. And though her boyfriend A.J. McCarron was busy with football practice, the couple have appeared increasingly distant ever since RadarOnline.com reported about AJ's night alone with a hot blonde.
Article continues below advertisement
Katherine and AJ have not been photographed together at an official public appearance ever since RadarOnline.com exposed his intimate night with Maxim model Margaret Wood. Though pictures of the pair have appeared as recently as June 27 on Twitter and Instagram, their last official public appearance together was back on January 7 at the BCS National Game.
Since then, AJ has been focused on training for his upcoming season as quarterback for the University of Alabama and Katherine has been promoting her career with appearances on Splash, photo shoots and appearances. When AJ spent the night with Margaret, Katherine was out of town at the Spike TV Choice Awards, where she was spotted hanging with Vin Diesel.
When asked about a breakup, Katherine's brother Matthew Webb told RadarOnline.com exclusively, "No comment. I can't say anything about it. I can't say anything. Sorry about that."
AJ Tweeted Wednesday night, "Your right I'm not at the espy's! I don't have to be at a award show to know what my team did. I'm back at school working to get another #16"