Mom-In-Residence: Carole Middleton To Stay With Kate & Prince William After Baby's Birth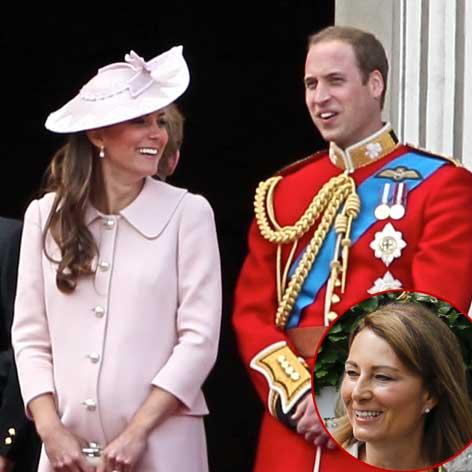 As the Great Kate Wait continues, Carole Middleton is packing her bags so that she can quickly move in with her daughter and Prince William after their baby is born.
Carole is expected to stay with the new parents and their royal baby at Kensington Palace for a few weeks.
Then she'll give the family space and let a nanny pitch in.
"From what you see of Kate she'll want her mother's help more than anyone's at first," former royal bodyguard Ken Wharfe told the Sunday Mirror. "She won't be forced to use nannies. But Carole won't be encouraged to stay with her for long.
Article continues below advertisement
"After that Kate will probably use the royal nanny more and as the child grows up they will have two nannies, one main one and one relief nanny, like William and Harry had."
Wharfe knows something of what he says will happen. He was Princess Diana's bodyguard and was then assigned to Prince William.
He calls Kate Middleton a "very modern" mom-to-be who can appreciate the expertise a highly trained nanny can offer.
"The royal nannies are all highly experienced and there to offer any help and support with things like breast-feeding."
The Duke and Duchess of Cambridge are believed to already be in their newly-renovated Nottingham Cottage at Kensington Palace while they await the birth of their baby.
Any gifts sent to the newborn -- and there are expected to be truckloads -- will first be X-rayed at the Buckingham Palace mailroom. Most, said, Wharfe, will be donated to charity.