Gypsy Sisters Wild Child Mellie Stanley Is A Mama: Gives Birth To Baby Boy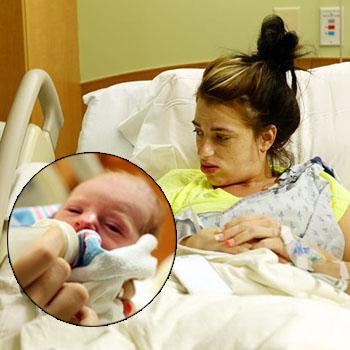 The wild child is now a mama! Mellie Stanley, who is known for getting fall-down drunk on the hit reality show Gypsy Sisters gave birth to her son on Sunday and RadarOnline.com has all the details about the new baby.
"Richard Joe Whetzel Stanley was born June 30th at 1:09 pm, weighing 6 pounds 2 ounces and was 20 inches long," TLC said in a statement about the new addition.
"Mother and baby are doing great."
Article continues below advertisement
Mellie was the last person anyone expected to have a child, and when she found out that she was "knocked up" she said the news was a shock, even to her.
"I didn't plan on having a baby, but it was one drunk night, and I got pregnant," she told RadarOnline.com.
Mellie, who initially said she wasn't "ready for no kid," previously said that she was ready to stop her wild partying ways.
"I don't miss drinking. My mother instincts are kicking up in me, and I'm not going back to my being crazy. I don't want to be a bad mama."
Sunday was a big day for babies – Jessica Simpson gave birth to her second child, a boy she named Ace Knute Johnson.
TLC cameras captured Mellie's joyous event and will air the footage in an upcoming episode of Gypsy Sisters.