Exclusive
Wild Child No More! Gypsy Sisters Star Mellie 'Got Knocked Up!'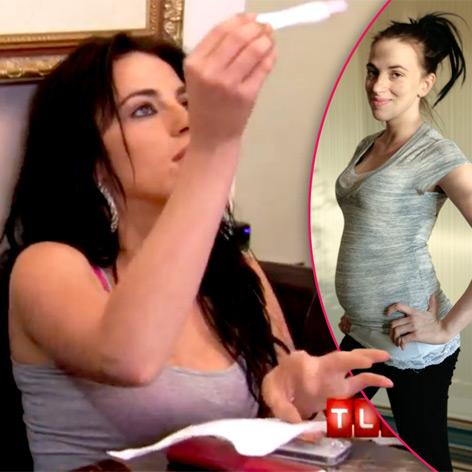 Gypsy Sisters star Mellie Stanley is known for her out of control drinking, vomiting and stripping, but that might all have to change now because she exclusively told RadarOnline.com the bombshell news that she's pregnant and expecting a baby in June!
"Mellie got knocked up," the brazen 'Wild Child' reality TV star revealed only to RadarOnline.com.
"I didn't plan on having a baby, but it was one drunk night, and I got pregnant."
Article continues below advertisement
In an exclusive sneak peek of the upcoming episode of Gypsy Sisters Mellie is adamant that she isn't pregnant ,and she even pees on a stick to prove to her sister that she isn't having a baby.
"I did not believe I was pregnant," Mellie told RadarOnline.com. "I took two tests that were negative, but I was throwing up everywhere all the time, so I finally went to the doctor who told me I was having a baby."
Known for her booze-fueled antics, Mellie says that she still has one bad vice, and that she just can't stop smoking even though she's pregnant.
"I got really stressed and picked up that bad habit of smoking again, which I am trying to get rid of," she admitted.
However, her drinking is a thing of the past Mellie says.
"I don't miss drinking. My mother instincts are kicking up in me, and I'm not going back to my being crazy. I don't want to be a bad mama."
Mellie said that her husband Robbie is overjoyed at the news – "He got what he wanted," but admits that she wasn't thrilled about the news initially.
"I wasn't ready for no kid. But it grows on you. And I figure I was old enough to lay down and spread my legs, so I'm old enough to spread them and have a kid."
Gypsy Sisters airs on TLC Sundays at 9/8c.