Exclusive
The Kardahians Are Liars! Ellen Kardashian Defends Her Marriage To Robert In Legal Response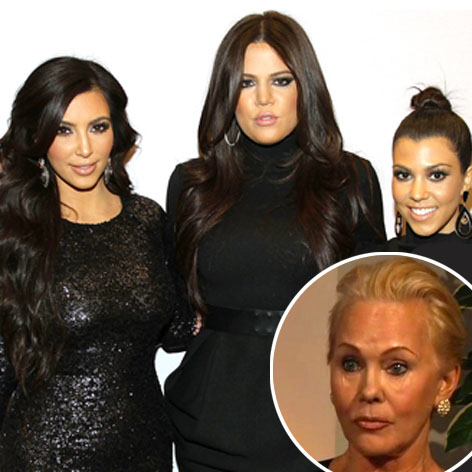 Article continues below advertisement
"In the Episode, Kimberly referred to Ellen as 'my dad's wife of a few weeks.' Robert and Ellen were married on July 27, 2003 and were married until Robert's death on September 30, 2003. Kimberly attended the wedding of her father, Robert, and Ellen and, therefore, knew that the statement she made in the Episode was false," the legal papers state.
"Kimberly made the statement knowing that it would debase Ellen's marriage and degrade Ellen's credibility to the public."
In fact, Ellen claims the Kardashian children approved of her marriage to their father.
"The Kardashian children were actively involved in planning The original ceremony and attended the July 27, 2003 wedding of their father, Robert Kardashian, to their step-mother, Ellen Pearson-Kardashian. Kourtney, Kimberly and Khloe even accepted diamond necklaces that were purchased for them by Robert and Ellen as keepsakes for attending the wedding," the court docs say.
Article continues below advertisement
"At no time during the one and a half year engagement, planning of the wedding or marriage did the Kardashian children object to their father's decision to marry Ellen, even with the knowledge that Robert's medical diagnosis was fatal."
As RadarOnline.com previously reported, the Kardashians have stated Ellen married Robert on his deathbed — which she vehemently denied in an interview transcript obtained by RadarOnline.com saying, "When he passed away his children were not there. My daughter was there and three friends of ours. They were there early in the morning. I don't know why they didn't come back. They knew that it would be soon, and they knew it would be that evening."
The legal documents address this allegation stating, "In the Episode, Khloe referred to Ellen and said that 'she married him on his deathbed.' The couple was married at their home in Encino at a small ceremony in which the Kardashian children were present as guests and witnesses. This statement is false and implies that Robert was an invalid when he Married Ellen. The truth is that Robert and Ellen had been engaged for a year and a half and decided together to be married even after Robert's cancer diagnosis. On the day of Robert and Ellen's wedding, Robert was physically and mentally capable of entering into a valid marriage."
Article continues below advertisement
And as if the deathbed claim wasn't enough, Kris Jenner also charged that Robert's head had to be propped up on a pillow for the ceremony. Another claim that Ellen denies.
"In the Episode, Kris Jenner stated that Ellen 'propped him (Robert) up on a pillow, basically in his own bed and married him in his pajamas.' Kourtney responded to Jenner's statement by saying 'Mom, he wasn't on the bed, he was on the couch.' Then Jenner said, 'Well, propped him up on the couch and Married him,'" the papers read.
"These statements are false and imply that Robert was an invalid and physically and mentally incapacitated at the time of his marriage. The truth is that couple was married at their home in Encino on a hot summer day, July 27, 2003 where Robert wore a 'Tommy Bahama' style shirt (not his pajamas) and Ellen wore a sundress."
Ellen claims in the response that Khloe made knowingly false statements on their reality TV show when she said, "My dad was dying and my father's ex-wife brought a priest to my dad's home and married my father."
Article continues below advertisement
"This statement is false and defamatory. A friend presided at their marriage at the home in which Robert, Ellen and Robert Jr. had lived together for over a year and all of the Kardashian children were present at the planned wedding," the documents state.
"It is true that Robert had already been diagnosed with cancer when he married Ellen, however, they had been engaged for a year and half prior to the marriage."
Ellen continues to defend her relationship with Robert, but also takes the opportunity to slam Kris alleging that she didn't care for her son Rob.
"Since Robert and Ellen began dating in December 1999, until the day of Robert's death on September 30, 2003, the two shared a close, personal and romantic relationship. After a three year courtship, Robert proposed marriage to Ellen in early 2002 and on Christmas day 2002 presented Ellen with an engagement ring," the docs state.
Article continues below advertisement
"After their engagement, Ellen moved into the home where Robert lived in Encino, California and subsequently Robert, Jr., then a teenager, joined them because Jenner did not want to care for him. Robert and Ellen cared for Robert Jr. and built a life together as they planned their coming wedding."
Moreover, Ellen claims when Robert eventually was on his deathbed, the Kardashian children hardly even visited with their father.
"Contrary to the depiction of Ellen in the Episode, the Kardashian children visited Robert infrequently once he began His treatment and the task of caring for Robert's declining physical condition fell entirely to Ellen," the papers say.
"At the moment Robert took his last breath, none of his children could be bothered to be by his side, opting instead to attend a party at Kourtney's home."