Exclusive
Custody Battle Twist: Denise Richards Would Love To Permanently Raise Brooke Mueller's Twin Boys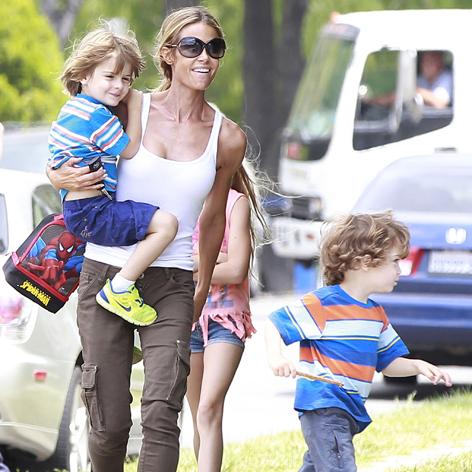 Denise Richards would love to raise ex-hubby, Charlie Sheen's twins, with former wife, Brooke Mueller permanently, RadarOnline.com is exclusively reporting.
The former James Bond hotty was granted temporary guardianship of Bob and Max, 4, almost two months ago, after child protective services removed the twins from their mother, Brooke Mueller's home, because of her ongoing drug use.
An important custody hearing in the case is will be held in two weeks in child dependency court, and Richards, "is prepared to tell the judge she would love to keep the boys permanently. Denise has been essentially raising the boys since last summer, and she loves the boys as if they were her own," a source told Radar exclusively.
Article continues below advertisement
"Charlie is 100 percent supportive of Denise raising the twins, and he feels she would be the best possible mother they could have. The twins are a part of Denise's family, and they love being with their sisters. It's a very happy household. It gets a bit chaotic, but Denise can handle it.
"Social workers have interviewed Denise multiple times since she was granted temporary guardianship, and they have been impressed with her commitment and dedication to the twins."
As Radar previously reported, Mueller is in danger of losing her parental rights after social workers determined that the troubled socialite ditched the sober living facility where she was seeking treatment and is now renting a nearby beach cottage in San Clemente, Calif., so her boyfriend can visit.
Child protective services was "absolutely stunned that Brooke moved out of the sober living facility," an insider previously told us.
Article continues below advertisement
"Brooke says she is still getting outpatient treatment at a clinic in San Jan Capistrano, but she isn't being randomly drug tested. Social workers are preparing a report for the judge in child dependency court and are going to recommend that Brooke's parental right be terminated, immediately."
Mueller has been in rehab numerous times over the years, with some reports saying she has been treated as many as 20 times.
Meanwhile, Charlie Sheen had offered to pay Denise extra child support for the twins, which she turned down.
"Charlie is extremely generous, and wanted to make sure having the twins in Denise's care didn't place a financial strain on her. Denise was thankful for the offer, but declined because she has the financial means to take care of them herself. She isn't doing this for the money," an insider previously revealed.