Exclusive
David Arquette And Courteney Cox Are Cozy Co-Workers On Set — See The Exclusive Pic!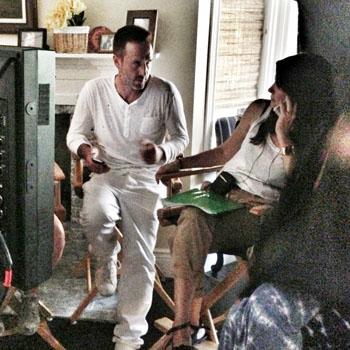 Staying friends after a divorce is hard enough, but David Arquette and Courteney Cox are defying the odds — not only have they stayed amicable post-split, but they're also co-producing a new movie together, and only RadarOnline.com has an exclusive pic of them on set.
Courteney is the director and producer of the film, Just Before I Go, and David is also a producer, along with filmmaker Gabe Cowan. Sean William Scott and Kate Walsh star, and David has a cameo.
Article continues below advertisement
Making it a family affair, their nine-year-old daughter Coco also has a short scene.
David's hair is back to its natural color after bleaching it blonde for a role and then pink for a special breast cancer fundraising event on the Fourth of July.
Dubbed "Flight of the Tatas," the event at Las Vegas' Hustler Club featured 103 topless skydivers (who put bikini tops on halfway down). Their efforts helped raise more than $20,000 for breast cancer research
After, David and his girlfriend Christina McLarty chilled at the Bootsy Bellows party on the club's roof.