Exclusive
'How Can You Sleep At Night?' Mistress Of 'To Catch A Predator' Host Chris Hansen Slams Him For Being Hypocritical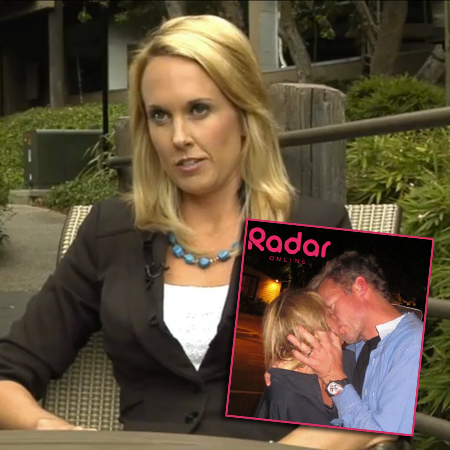 When Chris Hansen was exposed as a cheater who had two-timed his mistress, the irony of the situation was delicious for armchair critics across the country.
Now, the woman at the center of the scandal, Hansen's 32-year-old mistress Kristyn Caddell, is slamming the star and NBC for its apparent hypocrisy in allowing the journalist, who's spent his career exposing would-be sex perverts, to continue in a role busting bad people.
Article continues below advertisement
"From a fellow journalist... how could you find it in your heart to not only conjure up stories and lies and be in the public and risk my reputation, as well," Caddell told RadarOnline.com, in her first sit-down interview.
"How can you go to sleep at night knowing that this has happened and not stand up?
"I would have to say, I don't think Chris has been branded a cheater. Because if you've been branded a cheater, how is it okay for your network to continue letting you work, not only work, but continue catching people do bad things? It's a bit ironic I would say."
As we previously reported, Caddell, then a news reporter at an NBC affiliate, met the father-of-two in a Palm Beach, Fla., bar in March 2011.
He led her to believe his 20-year marriage to wife Mary Joan was on its last legs and the pair began a steamy four-month affair.
Two-timing Hansen previously rebuffed the scandal, saying only that reports were "full of hurtful lies."
Caddell told RadarOnline.com she's "mad" that she was labelled the mistress, but that Hansen, 54, emerged from the controversy relatively unscathed.
Article continues below advertisement
"I am mad about what has happened to my life. I'm mad at myself for being so naïve and believing someone. But I know it was my own choice and I take responsibility for that," she said.
"No one, not even whether you're the janitor or the CEO of a company, no one should have to have endured and dealt with the things I have as a woman. I'm 32 years old. I have a college degree. I worked really damn hard.
"I'm going to keep fighting for what I want to do. I'm a journalist and that's what I'll always be."
Since their illicit trysts were exposed, Caddell has been unable to hold down a job: She worked at a Seattle, Wash., station, before moving to NBC affiliate KSNV-Channel 3 in Las Vegas, Nev., where she worked until recently.
Still, she's hopeful of landing another opportunity.
"I think what it's going to take for someone to hire me is for someone to look at me and say 'This girl made a mistake. It happened two years ago. She's good at her job. She's been through a lot,'" Caddell said.
"I've been resilient. That should count for something. That should kept trying to fight for what I love to do. It's going to take someone to see that and say I'm going to put my faith in her. And trust me I learned a lesson."
radar_embed service=5min.com src="http://pshared.5min.com/Scripts/PlayerSeed.js?sid=1126&width=570&height=351&playList=517859840&sequential=1&shuffle=0"