Boston Bomber Widow's New Life: She Listens To Rock Music, Watches Movies & Is Still A Muslim As Questions Persist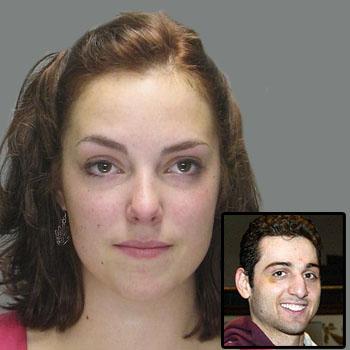 The widow of Boston Bomber Tamerlan Tsarnaev has kept a low profile since her husband, and the father of her child, died in a police shootout following the explosion at the marathon finish line and while a new report claims that she is "undergoing a personal metamorphosis," and is shedding her conservative lifestyle questions remain about her involvement in the bloody massacre.
Katherine Russell, 24, and her daughter Zahara have kept a low profile since the news broke that her husband and his brother Dzhohkar Tasanaev were allegedly responsible for the massacre at the race but a relative says she is reconnecting with her family and enjoying activities that were once banned by her husband.
Article continues below advertisement
"She has reverted to her maiden name. We're seeing glimpses of the old Katie again, and it's wonderful. We thought she was gone forever," the relative told People magazine.
She is listening to rock music and watching movies again, which Tamerlan forbid when they were together.
However, Katherine has not given up her faith.
"She has made it clear to her entire family that she is a Muslim and will remain a Muslim. That's non-negotiable. The family respects that."
The picture that emerged of Katherine right after the bombing was of a woman who was abused by her husband, with a college roommate saying Tamerlan called her a "slut" and a "prostitute."
"Her friends didn't like him," Jesse Coyle, an ex-boyfriend of Gina Crawford, Katherine's best friend since high school, told People magazine. "He was a douchebag."
Friends also said Katherine and Tamerlan had broken up but got back together and she became pregnant before they were married.
Article continues below advertisement
"The family did not like Tamerlan," Coyle said. "He was rude and dismissive, especially of girls."
A source close to Katherine, who wears a traditional head scarf when she is out in public, said she was learning about Islam before she knew her husband.
"Katie was interested in Islam before she met that man. She asked questions. But never indicated anything extremist."
She also apparently did not have a perfect relationship with her parents.
MORE ON:
Katherine Russell
An observer at her former employer Honey Dew Donuts said they overheard her fighting with her mother.
"She wanted to go out, but her parents wanted her to stay in. Typical fights," they said.
However, many questions about her level of involvement in the bombing remain unanswered and the FBI is still seeking answers from Katherine.
The federal agents reportedly know that there was a phone call between Katherine and Tamerlan after he was identified as a suspect, but they still are trying to learn what the couple said.
Article continues below advertisement
"A working theory is she is not so much a possible active coconspirator as an abused enabler," a law enforcement source told the magazine.
Katherine has reconnected with her family and she is apparently cooperating with the FBI, speaking with them on a weekly basis and she wants them to know that she was not involved in the bombing.
According to the magazine, one question the investigators are searching for the answer to: "Did Katherine shop for bomb components, not knowing what they were for?"
A source close to her said she was not involved.
"Her husband was the one who is responsible, not her.
"If she had any idea what he was up to, he would have done something, but she was working 80 hours a week and then taking care of their daughter."
Katherine fears that her relationship with her daughter is in jeopardy.
"The thing she's most afraid of is that she'll be taken away from Zahara."
Katherine is now reconnected with her family and is dealing with her daughter Zahara, who "doesn't understand what happened to her daddy.
"But she is surrounded by people who are crazy about her. She'll be fine."