Alexis Bellino Claims 'Malibu Country' Controversy Was Big Misunderstanding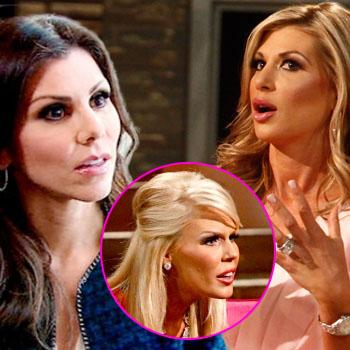 Article continues below advertisement
"When we got on the bus to ride to the hotel and I found out the reason Heather was leaving was for a role on Reba McEntire's show, I was happy for her! I did not know anything about Gretchen getting a phone call from Reba's agent, and I didn't know that Gretchen and Heather were already arguing about this," Alexis wrote Tuesday morning on her Bravo blog.
"Remember I couldn't stay for Tamra's dress shopping dinner, which is where all of this news was delivered. Although it seemed like I knew they were all having a conversation about it, I can assure you I did not hear it.
"So when I say that I received a call from Reba's agent too, I was not insinuating it was for Heather's role, I was simply relating to her. It makes me sad that we cannot have a genuine excitement for each other without jealousies being involved. My timing may have been off, but my intentions were not malicious."
Alexis says she was excited for Heather and tried to clear up the confusion regarding her own role on the show.
"The first thing I said to Heather when I heard she was leaving early because of her part on the Reba show was that it was exciting and I offered her my congratulations. I also explained that I never was OFFERED a role, Reba's agent simply asked if I was available at that time and I was not," Alexis says.
"I was excited for her role and Jim and I watched her play her part. She did it beautifully.