RHOC's Alexis Bellino Slams Gretchen Rossi's 'Pity Party' Attempt To Ban Her From Tamra Barney's Wedding Dress Shopping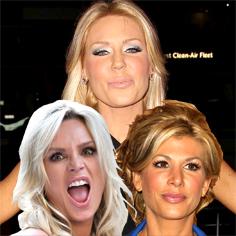 Gretchen Rossi's plan to have Alexis Bellino banned from the ladies' day of wedding dress shopping for Tamra Barney didn't work, and RadarOnline.com has all the details why.
Not only was Alexis invited wedding dress shopping with the women of Real Housewives of Orange County on Monday night's episode, but it was revealed that Gretchen originally told Tamra she wouldn't join the group if Alexis went — but Tamra didn't buy it and invited Alexis anyways.
Article continues below advertisement
"I was impressed and happy that Tamra stood up to Gretchen about inviting me dress shopping," Alexis wrote Tuesday on her Bravo blog.
"After all -- it is TAMRA'S day, period."
The three-way friendship struggle between Alexis, Gretchen and Tamra continues to flourish — and it seems to be Tamra caught in the middle.
"When Gretchen brought up that the last time Tamra and I were at an event together it became a total disaster, it makes me remember times that Tamra and Gretchen were the ones arguing. But things change, and they are friends now, so it didn't seem too far-fetched that maybe the same could be happening with Tamra and I," Alexis wrote.
"When Vicki pulled me aside and said that Gretchen said she wasn't going to come if I attended, I got a little angry inside. But there is a time and a place to act on it. This day was about Tamra, and bottom line, Tamra chose to invite me in the end...so Gretchen's little pity party didn't work. That was enough for me."
Alexis claims that Gretchen's actions don't bother her and she's not interested in having anyone like her in her close group of friends.
Article continues below advertisement
"I don't like or dislike her, I am simply indifferent," Alexis wrote.
"I can be in the same room with her, and she does not effect me. I want sincere, real, loyal people in my inner circle, but that doesn't mean I can't be cordial to everyone in the group."
And Alexis wants Tamra to know she's thankful for the wedding dress shopping invite!
"When I was leaving, I wanted to pull Tamra aside and thank her for choosing to invite me. It showed me she truly was trying to move forward with our friendship," she wrote.
"She had the added stress of being given an ultimatum, and she chose me. HUGE!"