Exclusive
Alec Baldwin's First Night Out Since Homophobic Rant: He Was 'Sugary Sweet' But Talking With A 'Strange Accent'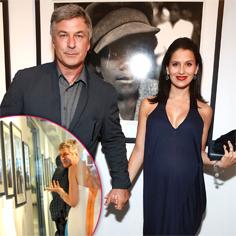 Alec Baldwin made his first public appearance since his homophobic rant and RadarOnline.com has exclusive details and photos about his markedly different behavior Monday night.
With his pregnant wife Hilaria, Alec attended the opening night of the Rock Paper Photo Collection which he curated.
Safely ensconced in a VIP area in the center of the party, Alec was overly gracious throughout the night, effusively talking with guests and posing for pictures with every person who asked, a change from his usual demeanor an eyewitness told RadarOnline.com.
Article continues below advertisement
"Alec was over the top friendly with everybody," guest Tom Murro said about the night.
"He said he was taking Hilaria out to dinner after the party. He was sugary sweet nice to everyone. He hasn't usually been that friendly at past events."
The New York native did have one strange affliction going on Monday night.
"Alec was talking with a really strange accent. I don't know if he was trying to sound British or Australian but it was an odd one. He kept it up all night as far as I could hear," Tom told RadarOnline.com.
His pregnant wife Hilaria looked stunning in a long purple dress that flattered her baby bump while Alec was dressed in a grey suit and shirt for their big night out but during the event she did not Tweet, a cause of the original scandal during James Gandolfini funeral, and Alec's newly reactivated account was silent as well.