Prosecution Problem: Star Witness Against Aaron Hernandez Is Heavy Drug User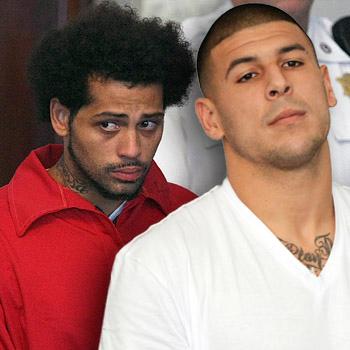 Prosecutors have plenty of circumstantial evidence against former pro football star Aaron Hernandez but it appears that they need a more credible witness than Carlos Ortiz in the first-degree murder case.
Ortiz told authorities that he was in the car with Hernandez, Ernest Wallace and Odin Lloyd the morning Lloyd was shot and killed "execution style." He claims he stayed in the car when Wallace, Hernandez and Lloyd got out to urinate – and Lloyd didn't come back.
Article continues below advertisement
Later that same day, June 17, 2013, Ortiz claims Wallace told him Hernandez confessed to firing the fatal shots.
Recently unsealed documents from the case show Ortiz told authorities Wallace told him that Hernandez admitted killing Lloyd. The problem that prosecutors have now is Ortiz's heavy drug use is well documented, tainting him as a witness.
Affidavits filed by police say Ortiz recently told a probation office he was "abusing PCP, alcohol and THC daily."
It gets worse (for the prosecution).
He did not go after being ordered to in-patient treatment.
It gets worse (for the prosecution).
He failed a drug test one week before Lloyd's murder. Ortiz tested positive for cocaine, PCP, THC and alcohol.
While Ortiz will appear to have little credibility as a witness prosecutors still have plenty of evidence as they seek life in prison with no chance for parole against Hernandez.
Article continues below advertisement
Ortiz, Wallace and Hernandez are alleged by prosecutors to have picked up Lloyd in the early morning hours of June 17.
Hernandez, meanwhile, will not be moved out of solitary confinement at Bristol County Jail. Officials believe it is in his best interest not to be in the general population.
Authorities are also pursuing another clue in the case that can shed on Hernandez's life: why did he fear break-ins so much at his house?
Hernandez installed an elaborate video surveillance system and his fiancée Shayanna Jenkins, who lives with him, told police there had been several attempted break-ins.
And according to the Boston Herald, Hernandez had a security expert show him how to disable some of the cameras.