Aaron Hernandez Search Warrants Released: Scale & Dish Used To Weigh Drugs Found; Fiancee Said Victim Was Pot Dealer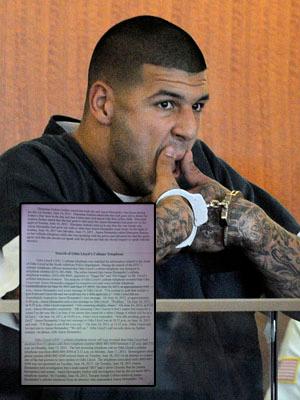 Eight search warrants in the Aaron Hernandez murder case were unsealed Tuesday creating a much clearer picture of the investigation into the former pro football star and RadarOnline has the details. Hernandez is charged with first-degree murder in the June 17 shooting death of Odin Lloyd.
Police found a dish and scale used for weighing drugs in Hernandez's home and his fiancée Shayanna Jenkins told authorities that Lloyd was a pot dealer, according to the documents.
Article continues below advertisement
A search of Lloyd's cellular phone also shows extensive communication between the victim and Hernandez in the hours before Lloyd was shot to death "execution style."
Other significant revelations include:
When police told Hernandez they were conducting a death investigation he did not ask whose death it was about.
The former tight end was combative with police when they first came to his house as part of the investigation. He even slammed the door on them.
Hernandez told Jenkins that his sports agent didn't want her talking to cops anymore.
Police have security video showing Lloyd, hours before his death, getting into a silver Nissan Altima that matches a car Hernandez rented.
Police also seized ammunition and electronics from Hernandez's house, according to the 156 pages of warrants unsealed. Hernandez did not answer the door to his home on June 17 when police first arrived but at about 10:30 pm but later walked outside and told them he had seen them on his video surveillance system. (Lloyd was shot in the early morning hours of that day.)
Article continues below advertisement
Hernandez then told cops he had recently rented a Chevrolet Suburban for Lloyd. "When asked when he last saw Odin, Aaron Hernandez replied that he last saw Odin "up his way yesterday" indicating he saw Odin last in Boston on Sunday, June 16, 2013," the documents read.
Hernandez was "unable to provide the officers with the location where he last saw Odin," but said the address was in his GPS. That's when the situation turned confrontational.
According to the documents: "Aaron Hernandez then became argumentative with the officers and asked: "what's with all the questions?" Aaron Hernandez then stated that the police would need to speak with his attorney." When told by police that they were conducting a death investigation Hernandez walked into his home, slammed the door and never asked whose death was being investigated.
The warrants describe how police were able to question Jenkins away from Hernandez. "Officers informed Shayanna Jenkins about the death of Odin Lloyd and she immediately began to cry. "
Article continues below advertisement
She told them she lived with Hernandez, that her sister Shaneah was dating Lloyd but that she didn't know Lloyd that well.
"Shayanna Jenkins indicated that Odin Lloyd smoke marijuana and was also a marijuana dealer. Shayanna Jenkins stated that she would often observe Odin Lloyd on his phone talking about marijuana sales."
Interestingly Jenkins said Hernandez installed the video surveillance because "there had been several recent break-in attempts at their residence."
She told police she was home with Hernandez on June 16, 2013 and that they had gone out to dinner. She went to bed early but Aaron went out, although she did not know whom he went out with or what time he came home.
Cops searched Lloyd's cell phone and Hernandez's number was stored in it. There were "extensive text and voice cellular telephone" communications between the two men on June 16, leading right up until hours before Hernandez and two other men are alleged to have picked up Lloyd and led him to his death.
Article continues below advertisement
The messages between Lloyd and Hernandez are cryptic but do fit a drug scenario. Hernandez texted Lloyd: "I'm coming to grab that tonight u gon b around I need dat and we could step for a little again." Other messages clearly indicate they are getting together.
Hernandez also told police that a man named "BO" had a Chrysler that Hernandez had rented but he didn't know BO's phone number.
Ernest Wallace, who has been charged as an accessory after the fact, was driving a Chrysler 300C on June 17 rented by Hernandez.
Here are some of the items authorities found in Hernandez's home:
An Apple iPhone 5
A Blackberry "bold" cell phone
Apple iPad 16GB tablet
Two Apple iPad mini tablets
A digital video recorder
A Seagate Barracuda hard drive
Two pair Nike white sneakers, size 13
Scale located in safe
Boarding receipt for Ernest Wallace, one of two other men charged with Hernandez
Hungarian rifle in Hernandez's car