Key To The Case? Aaron Hernandez's Fiancee Has Answers, But Won't Talk To Cops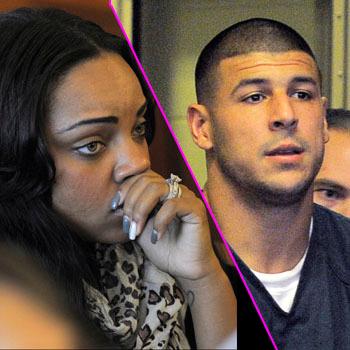 Shayanna Jenkins may hold key information to help or hurt Aaron Hernandez as he faces a first-degree murder charge but the enigmatic young mother has remained publicly and privately silent.
Engaged to Hernandez, 23, and the mother of his young daughter, Jenkins has seen the former pro football player's violent side, calling 911 when he smashed his fist through glass in a rage.
And her younger sister Shaneah was dating Odin Lloyd, the 27-year-old man who prosecutors says was murdered "execution style" by Hernandez.
Article continues below advertisement
Prosecutors said in a hearing that Shayanna spoke to authorities and was cooperating. But then Hernandez told her to stop talking, according to prosecutors.
She has not spoken to cops since, leaving the question open: What does she know?
One theory of Lloyd's killing is that he talked to people Hernandez didn't trust. If so, it is possible Jenkins knows about that, as it happened several days before the killing.
Police will also want to know if Shayanna knew about Hernandez's secret apartment, just recently discovered, where boxes of .45 caliber ammunition, a hat and sweatshirt, among other items, were recovered. The warrant to search the apartment mentioned the possibility of cocaine being found.
Shayanna could shed light on any involvement Hernandez may have had with drugs or drug dealers -- or help his case by proving he did not.
Article continues below advertisement
She also likely knows, say several sources, why Hernandez put such an elaborate security system in his home and why he had so many high powered guns.
Jenkins, 24, was the high school sweetheart of Hernandez in Bristol, Conn. After the birth of their baby Hernandez talked about his need to grow up and become more mature.
Jenkins is not facing any charges but police have not said she is ruled out from facing any in the future. She is rarely seen publicly and has disabled her social media accounts.
But she certainly witnessed Hernandez's violent side previously, calling 911 in California after they had an argument and he put his hand through a glass window. Another call to cops occurred after the couple had a dispute and Hernandez left the location.
She graduated from Bristol Central High School in 2007 and got engaged to Aaron in late 2012, around the same time their daughter was born.
It is likely Shayana will know definitively if Hernandez ever had ties to gangs, ever talked about hurting or killing anyone, what his exact connection is to the two men charged along with him in Lloyd's murder. She is the one person who may be able to illuminate the player's life in a way that can help – or hurt – him the most.
Now, the biggest question is what will it take to get her to talk?