Murder Case Bombshell: Aaron Hernandez Admitted Firing Fatal Shots, Court Documents Reveal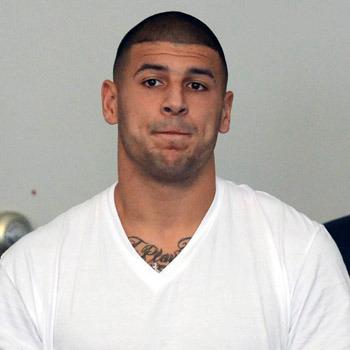 Aaron Hernandez admitted shooting Odin Lloyd to one of his charged accomplices, according to newly released documents in the first-degree murder case against the former pro football star.
While eight search warrants were unsealed in Massachusetts on Tuesday, the biggest bombshell was contained in documents made public in Florida.
Massachusetts investigators were told by Carlos Ortiz that Hernandez confessed to firing the fatal shots into Lloyd, the documents say, according to Sports Illustrated and ESPN.
Article continues below advertisement
Ortiz was told this information by Ernest Wallace. Hernandez told Wallace he shot Lloyd in an industrial park near his home, and Wallace then relayed the information to Ortiz, who told it to authorities. Lloyd's body was found in the industrial park near Hernandez's home.
Both Ortiz and Wallace are facing charges as accomplices in the death of Lloyd, who prosecutors say was murdered "execution style."
And while the chain of information about Hernandez's alleged confession is not direct, it is significant: legal experts have speculated that prosecutors will hope for testimony against Hernandez by others they believe are involved.
The Associated Press also reported that the informant claims Hernandez is involved in a double murder drive-by shooting from 2012:
"The documents also say that while investigating Lloyd's killing, police did searches in Hernandez's hometown, Bristol, Conn., that turned up a vehicle wanted in connection with a July 2012 double homicide in Boston. Police say the vehicle had been rented in Hernandez's name."