Zac Efron And Stripper Gal Pal Rejected For Steamy Threesome — Twice!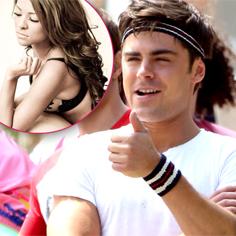 Former Disney darling Zac Efron has grown from a chubby High School Musical star to a chiseled leading man who thinks nothing of hopping into bed with multiple women.
According to a new report from Star magainze, Zac recently spent several wild, booze-fueled nights with an Austin, Texas, stripper and tried to get her friends to join them in a threesome — more than once!
Zac, 25, met exotic dancer "Lisa" (not her real name) while filming Parkland in Austin in early February. The two spent multiple nights together, according to the mag, but quickly looked to spice things up by adding a third.
Article continues below advertisement
On Valentine's Day, model and aspiring singer Cadence Anne, 21, claims things quickly got heated when Zac and Lisa invited her back to his hotel room.
The couple "were lying together on a foldout bed, and he motioned for me to come over," Cadence told Star. "I sat on the edge and Zac started rubbing my back and playing with my hair … and tried to push me and Lisa together like we should kiss. It was pretty clear what he wanted, but I wasn't into it and told him so."
That rejection didn't stop Zac from trying for a menage a trois once more on March 4, when he and Lisa invited model Viola Wallace to a party at a cabin outside of Austin.
Drinks flowed until 4 a.m. when, she claims, Zac called for her to join him and Lisa in a bunk bed.
"Zac seemed drunk and he started rubbing my thigh and said, 'Stay here and cuddle with us,'" she claims. "It was pretty obvious he wanted to have a threesome with me and Lisa but I wasn't interested.
For more details on Zac's hookups with Lisa -- including what they did in a bathroom -- pick up the latest issue of Star, on newsstands Thursday.