Is Will Smith Tied To Xenu? Reports Suggest 'After Earth' Bombed Because Of Strong Scientology Themes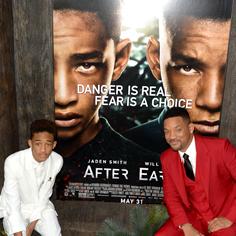 Will Smith has always been vague when it comes to discussing his religious beliefs, but following the release of After Earth some people suggest the film has strong Scientology themes and are wondering if the actor practices the religion.
In the new issue of The Hollywood Reporter, Kim Masters examines why the film failed so miserably at the box office, mentioning that the movie's "Scientology Taint" as well as Will and his son Jaden's bizarre and over the top interviews could be to blame – and RadarOnline.com has the details.
Article continues below advertisement
Smith, who was raised Baptist, has donated money to Scientology groups in the past, according to several reports, but has always denied being a member.
"I am not," Will previously told Fox News when asked if he's a Scientologist. "You can take different parts of things you like and put them all together."
"Smith has kept his links to the religion much quieter than has buddy Tom Cruise," writes Masters. "But with After Earth, media reports and reviews, including The New York Times' pan of the film, described perceived Scientology themes."
In the New York Times review, Manohla Dargis makes a clear correlation between the plot of the film and L. Ron Hubbard's teachings, also mentioning that Jada Pinkett and Will are producers on the film, "which suggest that there was no one on the production who could really say no to him."
She references Will and Jaden's interviews with New York Magazine, where Will explained that they were "students of world religion" and described himself as "a student of patterns."
Masters also mentions that "a prominent producer says After Earth 'opened the door to this generally well-hidden connection with Scientology.'"
Do you think Will and Jaden Smith are Scientologists? Sound off below…