Bobbi Kristina Brown Evicted From Atlanta Home After 10 Noise Complaints -- Leaves NASTY Note To Neighbor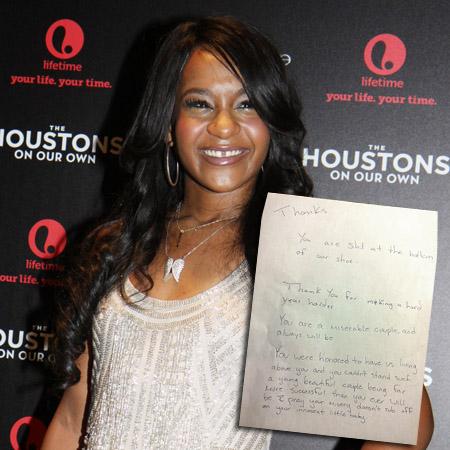 The daughter of late singer Whitney Houston and Bobby Brown left a nasty note for one of her neighbors after she was evicted from her Atlanta-area apartment.
According to people who live in the Alpharetta, Georgia, apartment complex, 20-year-old Bobbi Kristina Brown and her on-again, off-again boyfriend Nick Gordon were the subject of at least ten different noise complaints.
"My friend and his family live in the apartment under Bobbi Kristina Brown (Whitney Houston's daughter). After 6 months of complaints, she was finally kicked out. He found this on his door today," a neighbor wrote on Reddit, sharing a photo of the note she apparently left.
Article continues below advertisement
Thanks
You are s---- at the bottom our our shoe.
Thank You for making a hard year harder.
You are a miserable couple and always will be
You were honored to have us living above you and you couldn't stand such a
young beautiful couple far more successful than you ever will be. I pray
your misery doesn't rub off on your innocent little baby.
Houston drowned in a hotel bathtub on Feb. 11, 2012, in Beverly Hills, Calif. Authorities said her death was complicated by cocaine use and heart disease.