Exclusive
Eva Longoria's Ex-Husband Tony Parker Reveals He's Engaged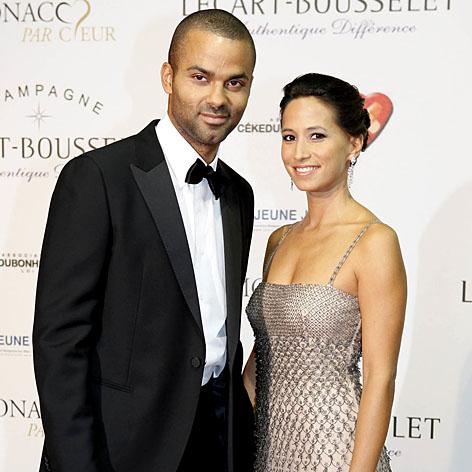 Two-and-a-half years after divorcing Eva Longoria, Tony Parker has confirmed he's engaged again.
The San Antonio Spurs star, 31, dropped the news in a chat with fans on Twitter moments ago. When asked what was his favorite thing to do to unwind after a game during an online promotion for watchmaker Tissot, the Frenchman boasted: "Spend time with my fiancé."
We can only assume the engagement was with Longoria look-a-like Axelle Francine, a French journalist, who was photographed in a romantic embrace with the NBA big man after the Spurs won the Western Conference trophy. The pair reportedly began dating in February 2012.
Article continues below advertisement
Ex-Desperate Housewives star Longoria, 38, filed for divorce from Parker in late 2011 citing "irreconcilable differences" amid rumors of infidelity -- after three years of marriage.
Longoria later said that the months after the split from Parker were "probably the time I got the most compliments because I was so skinny."
"I was not eating. I was depressed. I was sad. My diet was coffee," Longoria told Dr. Oz.
So people kept saying, you look amazing. Divorce agrees with you. And I was like, I don't feel good. I have no energy. I didn't know I was depressed. I mean, I knew it was a sad moment in my life, but I wouldn't categorize myself as depressed."