Three Discovery Channel 'Storm Chasers' Stars Killed In Oklahoma Tornado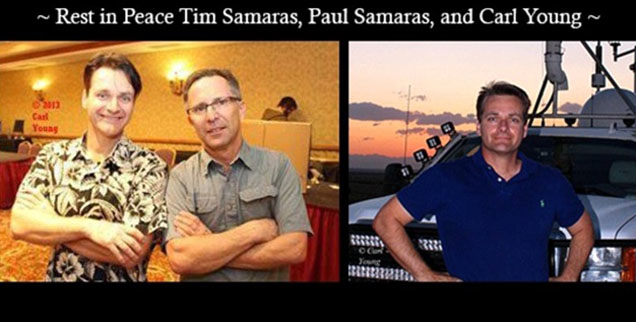 Legendary storm chaser Tim Samaras was killed Friday, along with his son, Carl Samaras, and their crew member Carl Young.
The three men, who appear on Discovery Channel's Storm Chasers, were recording the EF-3 tornado that devastated El Reno, Oklahoma.
Their deaths bring the fatality total to 12 in Friday's series of tornadoes.
"Everyone enjoy the chase," Tim Samaras wrote on his Facebook page just days earlier.
Article continues below advertisement
Following confirmation of his tragic death, Tim's brother Jim issued a statement:
"Thank you to everyone for the condolences. It truly is sad that we lost my great brother Tim and his great son, Paul. Our hearts also go out to the Carl Young family as well as they are feeling the same feelings we are today. They all unfortunately passed away but doing what they loved,"