Start Spreadin' The News: The Station House Is New York's Latest Must-Visit Establishment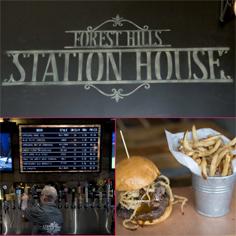 New York's the gold standard of bars and restaurants in the country, and The Station House in Forest Hills is the latest must-visit when in the area, with a unique atmosphere and variety of special whiskeys and beers that's second-to-none.
The expansive menu includes a vast selection of local craft beer, cask beer and small batch bourbons, along with a menu of comfort foods, while the bar itself is made from wood from upstate New York, and steel, concrete and brick culled from the city.
Article continues below advertisement
Yelp users are already raving about The Station House, enjoying the establishment's hip authenticity and thoroughness, without the overload of Park Avenue pomp that usually accompanies such venues.
"The beer selection is fantastic and I love the menu screens all around the restaurant," one user wrote, while another chimed in the décor was "warm, inviting, authentic and comfortable.
"The wait staff was friendly, prompt, and enthusiastic!" the diner wrote. "The food was really decent, and the portions were all reasonably large."
Don't just take our word for it, check it out yourself, as it's located at 106-1171st Ave. in Forest Hills.
For more details, call The Station House at 718-544-5000.