Selma Blair Responds After Charlie Sheen Fires Her Via Text & Curses At Her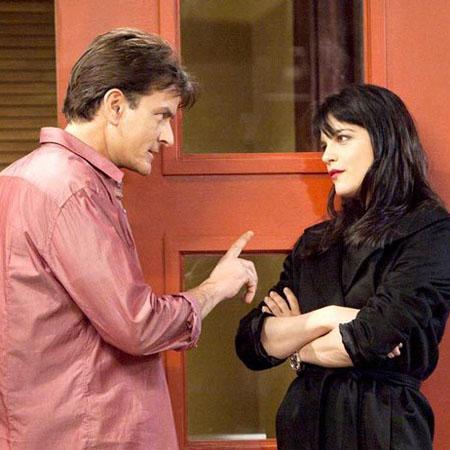 At least one of them is keeping it classy.
Hours after being fired by Charlie Sheen from a key role in his show Anger Management, Selma Blair kept her cool. Sheen, apparently not so much.
Sheen called Blair the "c" word in a text that also served as her termination of employment, according to Deadline Hollywood.
Two And A Half Men déjà vu anyone?
But unlike that show's creator Chuck Lorre, who battled his star in the public court of opinion and also in court, Blair, 40, is showing no signs of wanting to engage the mercurial star in a public war.
Article continues below advertisement
"I thank you for support and love, " is the simple message she posted on her Twitter account hours after the firing news broke.
Fans rallied to her side on social media and were obviously impressed by her restraint.
Blair apparently complained to producers about Sheen, 47, being hours late for taping and/or rehearsals on a regular basis. When that got back to Charlie, he demanded she be fired.
"We are confirming that Selma Blair will not be returning to Anger Management and we wish her the very best," studio Lionsgate Television said in a statement Tuesday.
Blair plays the main female character on the FX show, as Sheen's lover and therapist. The show will not stop production and will make creative changes instantly, according to Deadline.
Sheen's exit from Two And a Half Men was preceded by an incident with a porn star in a New York hotel room, where police were called. That eventually triggered a war with Lorre, legal action and a settlement that left the show intact and Sheen gone, replaced by Ashton Kutcher.
But Sheen landed a lucrative deal with FX and hit a ratings mark that guaranteed him 100 episodes. After a solid start, the show's ratings have softened.
As the latest drama unfolded Blair refused to publicly trash her costar and on June 18 tweeted, Goodnight dear followers. Life is good."
Behind the scenes, however, life was chaotic as Hurricane Charlie ripped through yet another show.
Ironically he plays an anger management counselor on the show, but off set his temper flared when he heard she complained about him. His demand for Blair's dismissal was honored by the production company, which simply could not risk alienating the star who the show is built around.